Freight News Hours row
1st May 1982
Page 7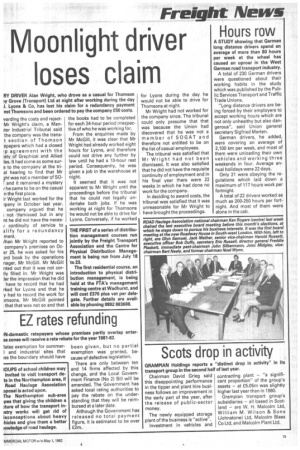 Page 7, 1st May 1982 —
Freight News Hours row
Close
A STUDY showing that German long distance drivers spend an average of more than 80 hours per week at the wheel has caused an uproar in the West German road transport industry.
A total of 230 German drivers were questioned about their working habits in the study which was published by the Public Services Transport and Traffic Trade Unions.
"Long distance drivers are being forced by their employers to accept working hours which are not only unhealthy but also dangerous", said Union general secretary Sigfried Merten.
German drivers, he added, were covering an average of 2,100 km per week, and most of them were unloading their own vehicles and working three weekends in four. Average annual holidays were 22 days.
Only 21 were obeying the regulations which laid down a maximum of 117 hours work per fortnight.
A total of 22 drivers worked as much as 200-250 hours per fortnight. And most of them were alone in the cab.