GEOFFREY CLARKSON has taken over as manager of Midland Red
1st May 1982
Page 64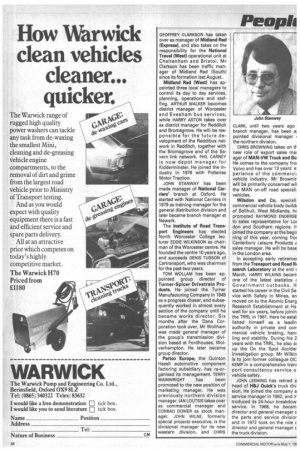 Page 64, 1st May 1982 —
GEOFFREY CLARKSON has taken over as manager of Midland Red
Close
(Express), and also takes on the responsibility for the National Travel (West) operational unit at Cheltenham and Bristol. Mr Clarkson has been traffic manager of Midland Red (South) since its formation last August.
Midland Red (West) has appointed three local managers to control its day to day services, planning, operations and staffing. ARTHUR WALKER becomes district manager of Worcester and Evesham bus services, while HARRY ASTON takes over as district manager for Redditch and Bromsgrove. He will be responsible for the future development of the Reddibus network in Redditch, together with the Bromsgrove end of the Severn link network. PHIL CARNEY is now depot manager for Kidderminster. He joined the industry in 1976 with Potteries Motor Traction.
JOHN STANWAY has been made manager of National Carriers' branch at Oxford. He started with National Carriers in 1979 as training manager for the general distribution division and later became branch manager at Newark.
The Institute of Road Transport Engineers has elected North Worcester College lecturer EDDIE WILKINSON as chairman of the Worcester centre. He founded the centre 10 years ago, and succeeds DENIS TUSSON of Cartransport, who was chairman for the past two years.
TOM WOLLAM has been appointed group director of Turner-Spicer Drivetrain Products. He joined the Turner Manufacturing Company in 1949 as a progress chaser, and subsequently worked in almost every section of the company until he became works director. Six months after the Dana Corporation took over, Mr Wollham was made general manager of the group's transmission division based at Fordhouses, Wolverhampton. He later became group director.
Partco Europe, the Quinton Hazen automotive component factoring subsidiary, has re-organised its management. TERRY WAINWRIGHT has been promoted to the new position of marketing manager. He was previously northern division manager. IAN LOUTSIS takes over as commercial manager and CONRAD DOWER as stock manager. JOHN WILNE, formerly special projects executive, is the divisional manager for its new western division, and CHRIS CLARK, until two years ago branch manager, has been al pointed divisional manager the northern division.
CHRIS BROWNING takes on ft new role of export sales mai ager of MAN-VW Truck and Bu He comes to the company froi Volvo and has over 13 years' a perience of the commerci; vehicle industry. Mr Brownin will be primarily concerned wil the MAN on-off road specialt vehicles.
Wilsdon and Co, special'. commercial vehicle body build( of Solihull, West Midlands, Fri promoted RAYMOND ENDERSE to sales representative for Lor don and Southern regions. H joined the company at the begir ning of this year, coming fror Canterbury Leisure Products E sales manager. He will be base in the London area.
In accepting early retiremer from the Transport and Road Ri search Laboratory at the end March, HARRY WILKINS becam one of the latest statistics Government cutbacks. H started his career in the Civil Se vice with Safety in Mines, an moved on to the Atomic Energ Research Establishment at Ha well for six years, before joinin the TRRL in 1961. Here he estat lished himself as a leadin authority in private and corr mercial vehicle braking, hanc ling and stability. During his 2 years with the TRRL, he also s( up the On the Spot Accider Investigation group. Mr Wilkin is to join former colleague DlC KEMP in a comprehensive tram port consuItancy service o vehicle safety.
JOHN LEEMING has retired a head of H861 Quick's truck div sion. He joined the company a service manager in 1962, and ir troduced its 24-hour breakdow service. In 1968, he becam director and general manager c the parts and service divisior and in 1972 took on the role c director and general manager c the truck division.
Tags
People
:
TERRY WAINWRIGHT
,
EDDIE WILKINSON
,
RAYMOND ENDERSE
,
DENIS TUSSON
,
HARRY ASTON
,
Brownin
,
CONRAD DOWER
,
JOHN STANWAY
,
TOM WOLLAM
,
Wollham
,
HARRY WILKINS
,
ARTHUR WALKER
,
JOHN LEEMING
,
JOHN WILNE
,
CHRIS CLARK
,
PHIL CARNEY
,
IAN LOUTSIS
,
GEOFFREY CLARKSON
,
Wilkin
,
CHRIS BROWNING