Spin a coin for a tunnel
1st May 1982
Page 62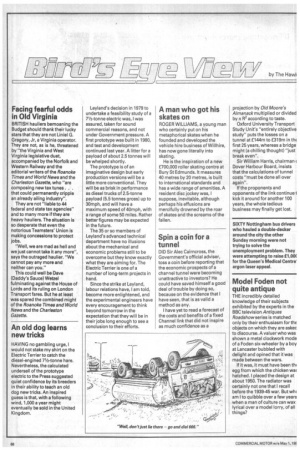 Page 62, 1st May 1982 —
Spin a coin for a tunnel
Close
DID Sir Alec Cairncross, the Government's official adviser, toss a coin before reporting that the economic prospects of a charnel tunnel were becoming unattractive to investors? He could have saved himself a good deal of trouble by doing so, because on the evidence that I have seen, that is as valid a method as any.
I have yet to read a forecast of the costs and benefits of a fixed Channel link that did not inspire as much confidence as a
projection by Old Moore's Almanack multiplied or divided byr R2 according to taste.
Oxford University Transport Study Unit's "entirely objective study" puts the losses on a tunnel at E144m to £319m in thE first 25 years, whereas a bridge might (a chilling thought) "just break even".
Sir William Harris, chairman Dover Harbour Board, insists that the calculations of tunnel costs "must be done all over again".
If the proponents and opponents of the link continue t kick it around for another 100 years, the whole tedious business may finally get lost.