An old dog learns new tricks
1st May 1982
Page 62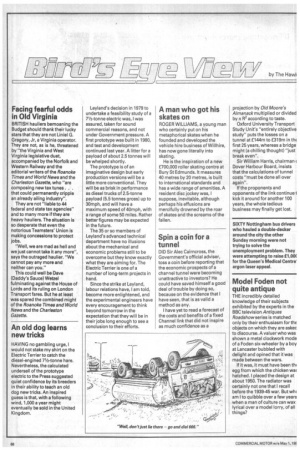 Page 62, 1st May 1982 —
An old dog learns new tricks
Close
HAVING no gambling urge, would not stake my shirt on the Electric Terrier to catch the diesel-engined 71/2-tonne hare. Nevertheless, the calculated undersell of the prototype electric to the Press suggested quiet confidence by its breeders in their ability to teach an old dog new tricks. An inspired guess is that, with a following wind, 1,000 a year might eventually be sold in the United Kingdom. Leyland's decision in 1979 to undertake a feasibility study of a 71/2-tonne electric was, I was assured, taken for sound commercial reasons, and not under Government pressure. A first prototype was built in 1980, and test and development continued last year. A litter for a payload of about 2.5 tonnes will be whelped shortly.
The prototype is of an imaginative design but early production versions will be a little more conventional. They will be as brisk in performance as diesel trucks of 2.5-tonne payload 15.5 tonnes gross) up to 30mph, and will have a maximum speed of 40mph, with a range of some 50 miles. Rather better figures may be expected in the future.
The 35 or so members of Leyland's advanced technical department have no illusions about the mechanical and economic problems still to be overcome but they know exactly what they are aiming for. The Electric Terrier is one of a number of long-term projects in hand.
Since the strike at Leyland, labour relations have, I am told, become more enlightened, and the experimental engineers have every encouragement to think beyond tomorrow in the expectation that they will be in their jobs long enough to see a conclusion to their efforts.