The rare arrangement that works for Langdon
1st May 1982
Page 54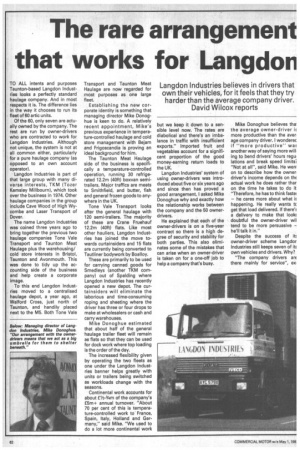 Page 59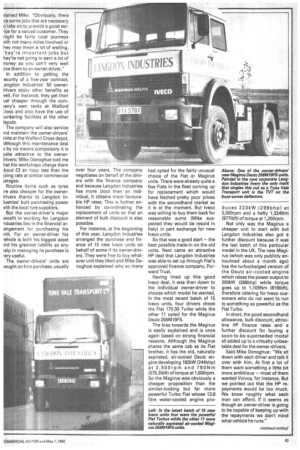 Page 54, 1st May 1982 —
The rare arrangement that works for Langdon
Close
TO ALL intents and purposes Taunton-based Langdon Industries looks a perfectly standard haulage company. And in most respects it is. The difference lies in the way it chooses to run its fleet of 60 artic units.
Of the 60, only seven are actually owned by the company. The rest are run by owner-drivers who are contracted to work for Langdon Industries. Although not unique, the system is not at all common either, particularly for a pure haulage company (as opposed to an own account operator).
Langdon Industries is part of that large group with many diverse interests, TKM (Tozer Kernsley Millbourn), which took over the business in 1974. Other haulage companies in the group include Cave Wood of High Wycombe and Laser Transport of Dover.
The name Langdon Industries was coined three years ago to bring together the previous two haulage companies Tone Vale Transport and Taunton Meat Haulage plus the warehousing/ cold store interests in Bristol, Taunton and Avonmouth. This was done to tidy up the accounting side of the business and help create a corporate image.
To this end Langdon Industries moved to a centralised haulage depot, a year ago, at Wa!ford Cross, just north of Taunton, and handily placed next to the M5. Both Tone Vale Transport and Taunton Meat Haulage are now regarded for most purposes as one large fleet.
Establishing the new corporate identity is something that managing director Mike Donoghue is keen to do. A relatively recent appointment, Mike's previous experience in temperature-controlled haulage and cold store management with Bejam and Frigoscandia is proving an ideal background for him.
The Taunton Meat Haulage side of the business is specifically a temperature-controlled operation, running 30 refrigerated 12.2m (40ft) boxvan semitrailers. Major traffics are meats to Smithfield, and butter, fish and general frozen goods to anywhere in the UK.
Tone Vale Transport looks after the general haulage with 120 semi-trailers. The majority of these are Crane Fruehauf 12.2m (40ft) flats. Like most other hauliers, Langdon Industries has joined the move towards curtainsiders and 15 flats are currently being converted to Tautliner bodywork by Boa by.
These are primarily to be used for carrying canned goods for Smedleys (another TKM company) out of Spalding where Langdon Industries has recently opened a new depot. The curtainsiders will eliminate the laborious and time-consuming roping and sheeting where the driver has three or four drops to make at wholesalers or cash and carry warehouses.
Mike Donoghue estimated that about half of the general haulage trailer fleet will remain as flats so that they can be used for dock work where top loading is the order of the day.
The increased flexibility given by operating the two fleets as one under the Langdon Industries banner helps greatly with units or trailers being switched as workloads change with the seasons.
Continental work accounts for about £1/2-3/4m of the company's £5m-iannual turnover. "About 70 per cent of this is temperature-controlled work to France, Spain, Italy, Holland and Germany," said Mike. "We used to do a lot more continental work
but we keep it down to a sensible level now. The rates are diabolical and there's an imbalance in traffic with insufficient exports." Imported fruit and vegetables account for a significant proportion of the good money-earning return loads to the UK.
Langdon Industries' system of using owner-drivers was introduced about five or six years ago and since then has proved a good arrangement. I asked Mike Donoghue why and exactly how the relationship works between the company and the 50 ownerdrivers.
He explained that each of the owner-drivers is on a five-year contract so there is a high degree of security and stability for both parties. This also eliminates some of the mistakes that can arise when an owner-driver is taken on for a one-off job to help a company that's busy. Mike Donoghue believes tha the average owner-driver i; more productive than the aver age company driver. I wonderec if "more productive" wa: another way of saying more will ing to bend drivers' hours regu lations and break speed limits: "Not at all", said Mike. He wen on to describe how the owner driver's income depends on tilt actual work he does rather thar on the time he takes to do it "Therefore, he has to think faster he cares more about what happening. He really wants tc get that load delivered. If there': a delivery to make that look: doubtful the owner-driver wil tend to be more persuasive he'll talk it in."
Despite the success of it owner-driver scheme Langdor Industries still keeps seven of it own vehicles and drivers. Why?
"The company drivers arE there mainly for service", ex.
)Iained Mike. "Obviously, there ire some jobs that are necessary o take on to provide a good ser'ice for a valued customer. They night be fairly local journeys vith not many miles involved or hey may mean a lot of waiting. -hey're important jobs, but hey're not going to earn a lot of noney so you can't very well jive them to an owner-driver."
In addition to getting the .ecurity of a five-year contract, .angdon Industries' 50 ownerlrivers enjoy other benefits as veil. For instance, they get their uel cheaper through the corn'any's own tanks at Walford :ross and also have the use of )unkering facilities at the other lepots.
The company will also service Ind maintain the owner-drivers' inits at the Walford Cross depot. klthough this maintenance deal s by no means compulsory it is juite attractive to the owner!rivers; Mike Donoghue told me hat his workshops charge them 'bout £3 an hour less than the joing rate at similar commercial pa rages.
Routine items such as tyres ire also cheaper for the ownerMyers thanks to Langdon Inlustries' bulk purchasing lamer vith the local tyre suppliers.
But the owner-driver's major )enefit in working for Langdon ndustries lies in the financial arangement for purchasing his init. For an owner-driver his fehicle is both his biggest asset Ind his greatest liability so any ielp in managing its purchase is fery useful.
The owner-drivers' units are )ought on hire purchase, usually over four years. The company negotiates on behalf of the drivers with the finance company and because Langdon Industries has more clout than an individual, it obtains more favourable HP rates. This is further enhanced by co-ordinating the replacement of units so that an element of bulk discount is also possible.
For instance, at the beginning of this year, Langdon Industries arranged the purchase and finance of 15 new Iveco units on behalf of some if its owner-drivers. They were free to buy whatever unit they liked and Mike Donoghue explained why so many
had opted for the fairly unusual choice of the Fiat or Magirus units. There were already quite a few Fiats in the fleet coming up for replacement which would have fetched pretty poor prices with the secondhand market as it is at the moment. But Iveco was willing to buy them back for reasonable sums (Mike suspected they would be resold in Italy) in part exchange for new Iveco units.
So that was a good start — the best possible trade-in on the old units. Next came an attractive HP deal that Langdon Industries was able to set up through Fiat's approved finance company, Forward Trust.
Having lined up this good Iveco deal, it was then down to the individual owner-driver to choose which model he wanted. In the most recent batch of 15 Neu) units, four drivers chose the Fiat 170.30 Turbo while the other 11 opted for the Magirus Deutz 256M19FS.
The bias towards the Magirus is easily explained and is once again based on strong financial reasons. Although the Magirus shares the same cab as its Fiat brother, it has the old, naturally aspirated, air-cooled Deutz engine developing 182kW (244bhp) at 2,5 0Orpm and 7 8 0 Nm (575.3Ibft) of torque at 1,600rpm. So the Magirus was obviously a cheaper proposition than the similar-looking but far more powerful Turbo Fiat whose 13.8 litre water-cooled engine pro duces 2 2 3kW (2 9 9 bhp) at 2,000rpm and a hefty 1,324Nm (977Ibft) of torque at 1,200rpm.
Not only was the Magirus a cheaper unit to start with but Langdon Industries also got a further discount because it was the last batch of this particular model in the UK. The new Magirus (which was only publicly announced about a month ago) has the turbocharged version of the Deutz air-cooled engine which raises the power output to 200kW (268bhp) while torque goes up to 1,109Nm (818Ibft), therefore catering for Iveco customers who do not want to run to something as powerful as the Fiat Turbo.
In short, the good secondhand allowance, bulk discount, attractive HP finance rates and a further discount for buying a soon-to-be-superseded model all added up to a virtually unbeatable deal for the owner-drivers.
Said Mike Donoghue: "We sit down with each driver and talk it over with him. At first a lot of them want something a little bit more ambitious — most of them wanted Volvos, for instance. But we pointed out that the HP repayments would be too much. We know roughly what each man can afford. If it seems as though an owner-driver is going to be capable of keeping up with the repayments we don't mind what vehicle he runs."