BR freight better
1st May 1982
Page 5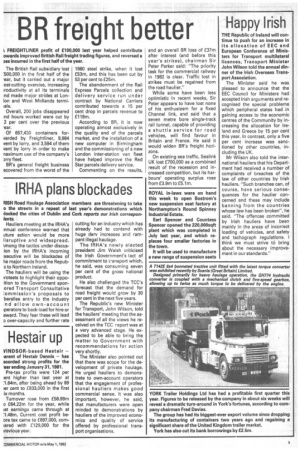 Page 5, 1st May 1982 —
BR freight better
Close
FREIGHTLINER profit of £100,000 last year helped contribute °wards improved British Rail freight trading figures, and reversed a D ss incurred in the first half of the year.
The British Rail subsidiary lost :500,000 in the first half of the 'ear, but it carried out a major ost-cutting exercise, increasing productivity at all its terminals Ind made major strides at LonIon and West Midlands termipals.
Overall, 200 jobs disappeared Ind hours worked were cut by 2 per cent over the previous rear.
Of 657,430 containers foryarded by Freightliner, 9,984 vent by lorry, and 3,594 of them vent by lorry in order to make naxirnum use of the company's orry fleet.
BR's general freight business ecovered from the worst of the 1980 steel strike, when it lost £53m, and this has been cut by 53 per cent to £25m.
The abandonment of the Rail Express Parcels collection and delivery service run under contract by National Carriers contributed towards a 15 per cent drop in parcels revenue to £119m.
According to BR, it is now operating almost exclusively in the quality end of the parcels market, and the installation of a new computer in Birmingham and the commissioning of a new London inter-station van fleet have helped improve the Red Star parcels delivery service.
Commenting on the results, and an overall BR loss of £37m after interest (and before this year's strikes}, chairman Sir Peter Parker said: "The priority task for the commercial railway in 1982 is clear. Traffic lost in strikes must be regained from the road haulier."
While some have been less optimistic in recent weeks, Sir Peter appears to have lost none of his enthusiasm for a fixed Channel link, and said •that a seven metre bore single-track rail tunnel, capable of providing a shuttle service for road vehicles, will find favour in Britain and France. He said it would widen BR's freight horizOns.
On existing sea traffic, Sealink UK lost £700,000 as a combined result of the recession and increased competition, but its harbours' operating surplus rose from £3.9m to £5.1m.