Cut dery tax: Payne
1st May 1982
Page 4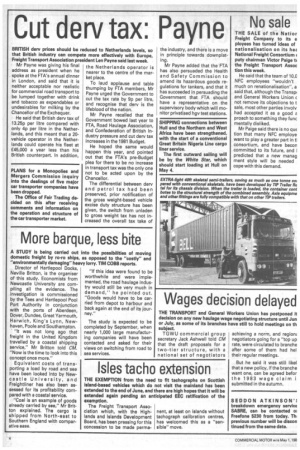 Page 4, 1st May 1982 —
Cut dery tax: Payne
Close
Keywords :
Transport Economics
,
Taxation
,
Finance
,
Tax Reform
,
Energy In The United Kingdom
,
Fuel Tax
,
Tax
,
Dery
,
Vehicle Excise Duty
,
Freight Transport Association
,
Value Added Tax
,
Politics
BRITISH dery prices should be reduced to Netherlands levels, so that British industry can compete more effectively with Europe, Freight Transport Association president Len Payne said last week.
Mr Payne was giving his final address as president when he spoke at the ETA's annual dinner in London, and said that it is neither acceptable nor realistic for commercial road transport to be lumped together with drink and tobacco as expendables or undesirables for milking by the Chancellor of the Exchequer.
He said that British dery tax of 13.25p per litre compared with only 4p per litre in the Netherlands, and this meant that a 20vehicle operator in the Netherlands could operate his fleet at £45,000 a year less than his British counterpart. In addition, the Netherlands operator is nearer to the centre of the market place.
To laud applause and table thumping by FTA members, Mr Payne urged the Government to cut the tax rate by 9p per litre, and recognise that dery is the lifeblood of the nation.
Mr Payne recalled that the Government bowed last year to ETA, Road Haulage Association, and Confederation of British Industry pressure and cut dery tax increases in the 1981 Budget.
He hoped the same would happen this year, and pointed out that the FTA's pre-Budget plea for there to be no increase in transport tax was the only one not to be acted upon by the Chancellor.
The differential between dery and petrol tax had been preserved, prior notification of the gross weight-based vehicle excise duty structure has been given, the switch from unladen to gross weight tax has not increased the overall tax take of the industry, and there is a move in principle towards downplating.
Mr Payne added that the FTA has also persuaded the Health and Safety Commission to amend its hazardous goods regulations for tankers, and that it has succeeded in persuading the Government that ETA should have a representative on the supervisory body which will monitor privatised hgv test stations.