An exceptional performance
1st May 1982
Page 30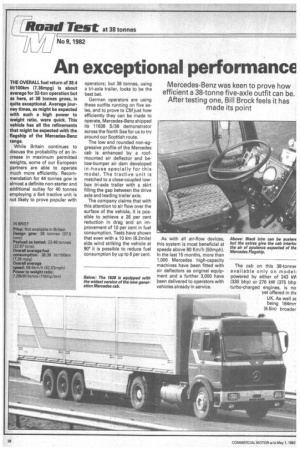 Page 31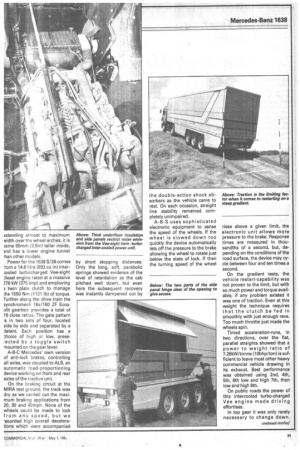 Page 30, 1st May 1982 —
An exceptional performance
Close
THE OVERALL fuel return of 38.4 lit/100km (7.36mpg) is about average for 32-ton operation but as here, at 38 tonnes gross, is quite exceptional. Average journey times, as might be expected with such a high power to weight ratio, were quick. This vehicle has all the refinements that might be expected with the flagship of the Mercedes-Benz range.
While Britain continues to discuss the probability of an increase in maximum permitted weights, some of our European partners are able to operate much more efficiently. Recommendation for 44 tonnes gcw is almost a definite non-starter and additional outlay for 40 tonnes employing a 6x4 tractive unit is not likely to prove popular with operators; but 38 tonnes, using a tri-axle trailer, looks to be the best bet.
German operators are using these outfits running on five axles, and to prove to CM just how efficiently they can be made to operate, Mercedes-Benz shipped its 11638 S/38 demonstrator across the North Sea for us to try around our Scottish route.
The low and rounded non-aggressive profile of the Mercedes cab is enhanced by a roofmounted air deflector and below-bumper air dam developed in-house specially for this model. The tractive unit is matched to a close-coupled lowbox tri-axle trailer with a skirt filling the gap between the drive axle and leading trailer axle.
The company claims that with this attention to air flow over the surface of the vehicle, it is possible to achieve a 26 per cent reduction in drag and an improvement of 10 per cent in fuel consumption. Tests have shown that even with a 10 km (6.2mile) side wind striking the vehicle at 90° it is possible to reduce fuel consumption by up to 6 per cent. As with all air-flow devices, this system is most beneficial at speeds above 80 Km/h (50mph). In the last 15 months, more than 1,000 Mercedes high-capacity machines have been fitted with air deflectors as original equipment and a further 3,000 have been delivered to operators with vehicles already in service. The cab on this 38-tonner available only on model: powered by either of 243 klA (330 bhp) or 276 kW (375 bhp turbo-charged engines, is no yet offered in thE UK. As well at being 164mrr (6.5in) broader Wending almost to maximum width over the wheel arches, it is ;ome 65mm (2.5in) taller inside, Ind has a lower engine tunnel .han other models.
Power for the 1638 S/38 comes it-0m a 14.6 litre (892 cu in) inter;ooled turbocharged Vee-eight lies& engine rated at a massive 276 kW (375 bhp) and employing 3 twin plate clutch to manage the 1550 Nm (1121 lb) of torque. Further along the drive train the synchromesh 16s/160 ZF Ecosalit gearbox provides a total of 16 close ratios. The gate pattern is in two sets of four, located side by side and separated by a letent. Each position has a hoice of high or low, preseected by a toggle switch mounted on the gear lever.
A-B-C Mercedes' own version of anti-lock brakes, controlling all axles, was coupled to ALB, an automatic load-proportioning device working on front and rear axles of the tractive unit.
On the braking circuit at the MIRA test ground, the track was dry as we carried out the maximum braking applications from 20, 30 and 40mph. None of the wheels could be made to lock from any speed, but we -ecorded high overall decelerations which were accompanied
by short stopping distances. Only the long, soft, parabolic springs showed evidence of the level of retardation as the cab pitched well down, but even here the subsequent recovery was instantly dampened out by the double-action shock absorbers as the vehicle came to rest. On each occasion, straight line stability remained completely unimpaired.
A-B-S uses sophisticated electronic equipment to sense the speed of the wheels. If the wheel is slowed down too quickly the device automatically lets off the pressure to the brake allowing the wheel to rotate just below the state of lock. If then the turning speed of the wheel
rises above a given limit, the electronic unit allows more pressure to the brake. Response times are measured in thousandths of a second, but, depending on the conditions of the road surface, the device may cycle between four and ten times a second.
On the gradient tests, the vehicle restart-capability was not proven to the limit, but with so much power and torque available, if any problem existed it was one of traction. Even at this weight the technique requires that the clutch be fed in smoothly with just enough revs. Too much throttle just made the wheels spin.
Timed acceleration-runs, in two directions, over the flat, parallel straights showed that a power to weight ratio of 7.26kW/tonne (10bhp/ton) is sufficient to leave most other heavy commercial vehicle drawing in its exhaust. Best performance was obtained using 2nd, 4th, 5th, 6th low and high 7th, then low and high 8th.
On public roads the power of this intercooled turbo-charged Vee engine made driving effortless.
In top gear it was only rarely necessary to change down.