White Paper: bans now what's next.
1st May 1982
Page 3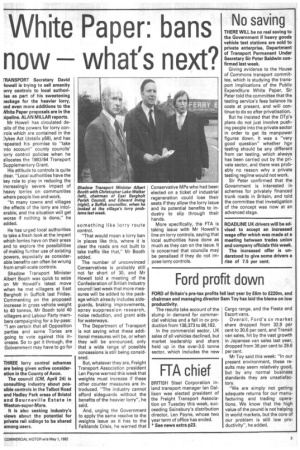 Page 3, 1st May 1982 —
White Paper: bans now what's next.
Close
MANSPORT Secretary David iowell is trying to sell amenity orry controls to local authori:ies as part of his sweetening mckage for the heavier lorry, Ind even more additions to the Nhite Paper proposals are in the 3ipeline. ALAN MILLAR reports.
Mr Howell has circulated de:ails of the powers for lorry controls which are contained in the Dykes Act (details p58), and has repeated his promise to "take into account" county councils' lorry control policies when he allocates the 1983/84 Transport Supplementary Grant.
His attitude to controls is quite clear. "Local authorities have the key role to play in reducing the increasingly severe impact of heavy lorries on communities where people live and work.
"In many towns and villages the effects of the lorry are intolerable, and the situation will get worse if nothing is done," he added.
He has urged local authorities to take a fresh look at the impact which lorries have on their areas and to explore the possibilities of making further use of existing powers, especially as considerable benefits can often be wrung from small-scale controls.
Shadow Transport Minister Albert Booth was quick to seize on Mr Howell's latest move when he met villagers at East Bergh°It in Suffolk last Friday. Commenting on the proposed increase in gross vehicle weight to 40 tonnes, Mr Booth told 40 villagers and Labour Party members campaigning for a by-pass: "I am certain that all Opposition parties and some Tories are going to vote against this increase. So to get it through, the Golvemment may have to go for something like lorry route control.
"That would mean a lorry ban in places like this, where it is clear the roads are not built to take traffic like that," Mr Booth added.
The number of unconvinced Conservatives is probably still not far short of 30, and Mr Howell told a meeting of the Confederation of British Industry council last week that more measures will be added to the package which already includes sideguards, braking improvements, spray suppression research, noise reduction, and grant aids for waterways.
The Department of Transport is not saying what these additional measures will be, or when they will be announced, only that a wide range of possible concessions is still being considered.
But, whatever they are, Freight Transport Association president Len Payne warned this week that weights must increase if these other counter measures are introduced. "The industry cannot afford sideguarcis without the benefits of the heavier lorry", he said.
And, urging the Government to apply the same resolve to the weights issue as it has to the Falklands Crisis, he warned that Conservative MPs who had been elected on a ticket of industrial regeneration could lose their seats if they allow the lorry issue and its potential benefits to industry to slip through their hands.
More specifically, the FTA is taking issue with Mr Howell's line on lorry controls, saying that local authorities have done as much as they can on the issue. It is concerned that councils ma'j be penalised if they do not impose lorry controls.