Ford profit down
1st May 1982
Page 3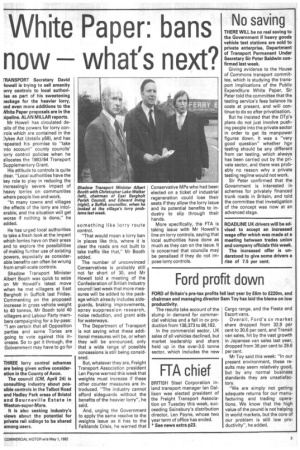 Page 3, 1st May 1982 —
Ford profit down
Close
FORD of Britain's pre-tax profits fell last year by E6m to £220m, and chairman and managing director Sam Toy has laid the blame on low productivity.
The results take account of the slump in demand for commercial vehicles and a fall in cv production from 138,373 to 86,182.
In the commercial sector, UK sales of all vehicles declined, but market leadership and share held up in the over-3.5 tonne sector, which includes the new Cargo range, and the Fiesta and Escort vans.
Overall, Ford's cv market share dropped from 32.9 per cent to 30.6 per cent, and Transit van sales, hit by the vast growth in Japanese van sales last year, dropped from 36 per cent to 29.6 per cent.
Mr Toy said this week: "In our present environment, these results may seem relatively good, but by any normal business standards they are unsatisfactory.
"We are simply not getting adequate returns for our manufacturing and trading operations. We know that the high value of the pound is not helping in world markets, but the core of our problem is still low productivity", he added.