Impressive variety al coach event of the yea!
1st May 1982
Page 22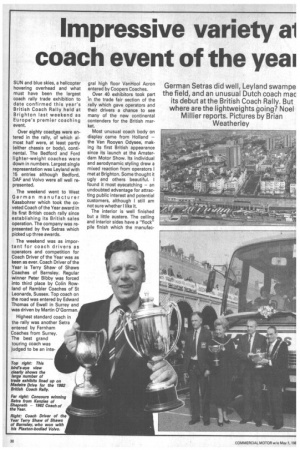 Page 23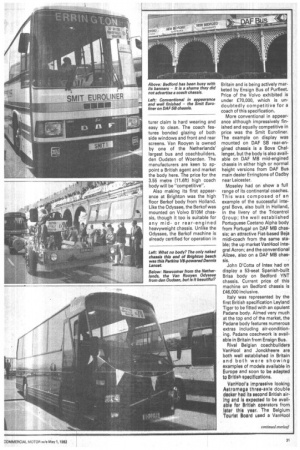 Page 24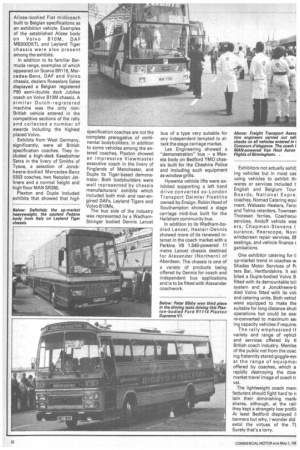 Page 22, 1st May 1982 —
Impressive variety al coach event of the yea!
Close
SUN and blue skies, a helicopter hovering overhead and what must have been the largest coach rally trade exhibition to date confirmed this year's British Coach Rally held at Brighton last weekend as Europe's premier coaching event.
Over eighty coackes were entered in the rally, of which almost half were, at least partly (either chassis or body), continental. The Bedford and Ford lighter-weight coaches were down in numbers. Largest single representation was Leyland with 15 entries although Bedford, DAF and Volvo were all well represented.
The weekend went to West German manufacturer Kassbohrer which took the coveted Coach of the Year award in its first British coach rally since establishing its British sales operation. The company was represented by five Setras which picked up three awards.
The weekend was as important for coach drivers as operators and competition for Coach Driver of the Year was as keen as ever. Coach Driver of the Year is Terry Shaw of Shaws Coaches of Barnsley. Regular winner Peter Bibby was forced into third place by Colin Rowland of Rambler Coaches of St Leonards, Sussex. Top coach on the road was entered by Edward Thomas of Ewell in Surrey and was driven by Martin O'Gorman.
Highest standard coach in the rally was another Setra entered by Farnham Coaches from Surrey. The best grand touring coach was judged to be an inte gral high floor VanHool Acron entered by Coopers Coaches.
Over 40 exhibitors took part in the trade fair section of the rally which gave operators and their drivers a chance to see many of the new continental contenders for the British market.
Most unusual coach body on display came from Holland — the Van Rooyen Odysee, making its first British appearance since its launch at the Amsterdam Motor Show. Its individual and aerodynamic styling drew a mixed reaction from operators I met at Brighton. Some thought it ugly and others beautiful. I found it most eyecatching — an undoubted advantage for attracting public interest and potential customers, although I still am not sure whether I like it.
The interior is well finished but a little austere. The ceiling and interior sides have a "flock" pile finish which the manufac turer claim is hard wearing and easy to clean. The coach features bonded glazing of both side windows and front and rear screens. Van Rooyen is owned by one of the Netherlands' largest bus and coachbuilders, den Oudsten of Woerden. The manufacturers are keen to appoint a British agent and market the body here. The price for the 3.55 metre (11.6ft) high coach body will be "competitive".
Also making its first appearance at Brighton was the high floor Berkof body from Holland. Like the Odyssee, the Berkof was mounted on Volvo B1OM chassis, though it too is suitable for any midor rear-engined heavyweight chassis. Unlike the Odyssee, the Berkof machine is already certified for operation in Britain and is being actively marketed by Ensign Bus of Purfleet. Price of the Volvo exhibited is under £70,000, which is undoubtedly competitive for a coach of this specification.
More conventional in appearance although impressively finished and equally competitive in price was the Smit Euroliner. The example on display was mounted on DAF SB rear-engined chassis is a Bova Challenger, but the body is also available on DAF MB mid-engined chassis in either high or normal height versions from DAF Bus main dealer Erringtons of Oadby near Leicester.
Moseley had on show a full range of its continental coaches. This was composed of an example of the successful integral Bova, also built in Holland, in the livery of the Tricentrol Group; the well established Portuguese Caetano Alpha body from Portugal on DAF MB chassis; an attractive Fiat-based Beja midi-coach from the same stable; the up market VanHool integral Acron; and the conventional Alizee, also on a DAF MB chassis.
John D'Cotta of Intex had on display a 53-seat Spanish-built Brisa body on Bedford YNT chassis. Current price of this machine on Bedford chassis is £46,000 inclusive.
Italy was represented by the first British specification Leyland Tiger to be fitted with an opulent Padane body. Aimed very much at the top end of the market, the Padane body features numerous extras including air-conditioning. Padane coachwork is available in Britain from Ensign Bus.
Rival Belgian coachbuilders VanHool and Jonckheere are both well established in Britain and both were showing examples of models available in Europe and soon to be adapted to British smifications.
VM*10@l'a Impressive looking Astromege three-axle double donimr hild Its second British airing. arid is expected to be avail bls British operators from igli@r this year. The Belgium Tourist Board used a VanHool
Alizee-bodied Fiat midicoach built to Belgian specifications as an exhibition vehicle. Examples of the established Alizee body on Volvo BlOM, OAF MB2000KTL and Leyland Tiger chassis were also present among the exhibits.
In addition to its familiar Bermuda range, examples of which appeared on Scania BR116, Mercedes-Benz, DAF and Volvo chassis, dealers Roeselare Sales displayed a Belgian registered P90 semi-double deck Jubilee coach on Volvo B1OM chassis. A similar Dutch-registered machine was the only nonBritish vehicle entered in the competitive sections of the rally and collected a number of awards including the highest placed Volvo.
Exhibits from West Germany, significantly, were all British specification coaches. They included a high-deck Kassbohrer Setra in the livery of Smiths of Tysoe, a selection of Jonckheere-bodied Mercedes-Benz 0303 coaches, two Neoplan Jetliners and a normal height and high floor MAN SR280.
Plaxton and Duple included exhibits that showed that high specification coaches are not the complete prerogative of continental bodybuilders. In addition to some vehicles among the entered coaches, Plaxton showed an impressive Viewmaster executive coach in the livery of Finglands of Manchester, and Duple its Tiger-based demonstrator. Both bodybuilders were well represented by chassis manufacturers' exhibits which included both midand rear-engined DAFs, Leyland Tigers and Volvo B10Ms.
The bus side of the industry was represented by a WadhamStringer bodied Dennis Lancet bus of a type very suitable for any independent tempted to attack the stage carriage market.
Lex Engineering showed a "demonstration" bus — a Maxeta body on Bedford YMO chassis built for the Cheshire Police and including such equipment as window grills.
Hywema vehicle lifts were exhibited supporting a left hand drive converted ex-London Transport Daimler Fleetline owned by Ensign. Robin Hood of Southampton showed a stage carriage midi-bus built for the Hailsham community bus.
In addition to its Wadham-bodied Lancet, Hestair-Dennis showed more of its renewed interest in the coach market with a Perkins V8 1.540-powered 11 metre Lancet chassis destined for Alexander (Northern) of Aberdeen. The chassis is one of a variety of products being offered by Dennis for coach and independent bus applications and is to be fitted with Alexander coachwork. Exhibitors not actually exhib ing vehicles but in most cas using vehicles to exhibit th wares or services included t English and Belgium Tour Boards, National Expre. coaches, Nomad Catering equi ment, Webasto Heaters, Fero, and Telma retarders, Townsen Thoresen ferries, Coachsoui services, Anduff vehicle was ers, Chapman-Stevens i surance, Rearscope, Novi windscreen repair services, BF seatings, and vehicle finance ganisations.
One exhibitor catering for ti up-market trend in coaches w Shades Motor Services of Pc ters Bar, Hertfordshire. It exl bited a Duple-bodied Volvo fitted with its demountable toil system and a Jonckheere-b died Volvo fitted with its vidt and catering units. Both vehicl were equipped to make the suitable for long distance shutt operations but could be easi re-converted to maximum set ing capacity vehicles if require(
The rally emphasised tt variety and range of vehicl, and services offered by tl British coach industry. Membe of the public not from the coac ing fraternity stared goggle-eyt at the range of equipmei offered by coaches, which a rapidly destroying the dow market travel image of coach tr vel.
The lightweight coach mant facturers should fight hard to n tam n their diminishing mark( shares, although, at the rall, they kept a strangely low profill At least Bedford displayed ii banners but why, I wonder did extol the virtues of the • TL Surely that's a lorry.