Multi-modal man of steel
1st May 1982
Page 15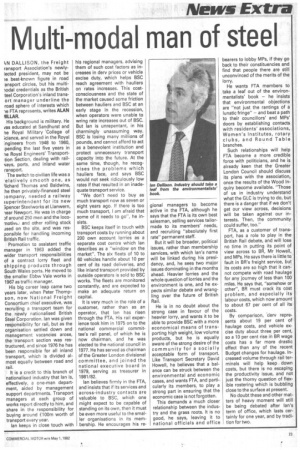 Page 15, 1st May 1982 —
Multi-modal man of steel
Close
kN DALLISON, the Freight ransport Association's newlylected president, may not be le best-known figure in road • ansport circles, but his multiiodal credentials as the British tee! Corporation's inland transort manager underline the road sphere of interests which ie FTA represents, writes ALAN AILLAR.
His background is military. He as educated at Sandhurst and he Royal Military 'College of ;cience, and served in the Royal ingineers from 1948 to 1960, ;pending the last five years in he Royal Engineers' Transportlion Section, dealing with railvays, ports, and inland water ransport.
The switch to civilian life was a • elatively smooth one, as iichard Thomas and Baldwins, be then privately-financed steel 1.ompany, needed a railway superintendent for its new Spencer Steelworks at Llanwern, leer Newport. He was in charge Df around 250 men and the locomotive.. and other rolling stock used on the site, and was responsible for handling incoming British Rail traffic.
Promotion to assistant traffic manager in 1963 added the wider transport responsibilities of a contract lorry fleet and shipping products through South Wales ports. He moved to the smaller Ebbw Vale works in 1967 as traffic manager.
His big career leap came two years later, when Peter Thompson, now National Freight Consortium chief executive, was recruiting a transport team for the newly nationalised British Steel Corporation. Ian was given responsibility for rail, but as the organisation settled down and management vacancies arose, the transport section was restructured, and since 1976 he has been responsible for all inland transport, which is divided almost equally between road and rail.
It is a credit to this branch of nationalised industry that Ian is, effectively, a one-man department, aided by management support departments. Transport managers at each group of works report directly to him, and share in the responsibility for buying around £100m worth of transport every year.
Ian keeps in close touch with his regional managers, advising them of such cost factors as increases in dery prices or vehicle excise duty, which helps BSC reach agreement with hauliers on rates increases. This costconsciousness and the state of the market caused some friction between hauliers and BSC at an early stage in the recession, when operators were unable to wring rate increases out of BSC. But Ian is unrepentant, in his charmingly unassuming way. BSC is losing many millions of pounds, and cannot afford to act as a benevolent institution and protect unnecessary transport capacity into the future. At the same time, though, he recognises the problems which hauliers face, and says BSC would not seek ridiculously low rates if that resulted in an inadequate transport service.
"We don't need to buy as much transport now as seven or eight years ago. If there is too much transport, I am afraid that some of it needs to go", he insists.
BSC keeps itself in touch with transport costs by running about 200 own account lorries as a separate cost centre which Ian describes as a "window on the market". The six fleets of 10 to 60 vehicles handle about 10 per cent of its road deliveries, and like inland transport provided by outside operators is sold to BSC works. The fleets are monitored constantly, and are expected to make an adequate return on capital.
It is very much in the role of a customer, rather than as an operator, that Ian has risen through the FTA. His rail experience took him in 1975 on to the national commercial committee's rail panel, of which he is now chairman, and he was elected to the national council in 1977. He has served as chairman of the Greater London divisional committee, and joined the national executive board in 1979, serving as treasurer in 1981/82.
Ian believes firmly in the FTA, and insists that if its services and across-industry contacts are valuable to BSC, which one might expect to be capable of standing on its own, then it must be even more useful to the smaller organisations in its membership. He encourages his re
gional managers to become active in the FTA, although he says that the FTA is its own best salesman, selling services tailormade to its members' needs, and recruiting "absolutely first rate" permanent staff.
But it will be broader, political issues, rather than membership services, with which Ian's name will be linked during his presidency, and, he sees two major issues dominating in the months ahead. Heavier lorries and the whole question of lorries and the environment is one, and he expects similar debate and wrangling over the future of British Rail.
He is in no doubt about the strong case in favour of the heavier lorry, and wants it to be able to provide BSC with a more economical means of transporting high weight, low volume products, but he is equally aware of the strong desire of the community for a socially acceptable form of transport. Like Transport Secretary David Howell, he believes that a balance can be struck between the environmental and economic cases, and wants FTA, and particularly its members, to play a strong part in ensuring that the economic case is not forgotten.
This demands a much closer relationship between the industry and the grass roots. It is no good, he says, leaving it to national officials and office bearers to lobby MPs, if they go back to their constituencies and find that people there are still unconvinced of the merits of the lorry.
He wants FTA members to take a leaf out of the environmentalists' book — he insists that environmental objections are "not just the rantings of a lunatic fringe" — and beat a path to their councillors' and MPs' doors by establishing contacts with residents' associations, Women's Institutes, rotary clubs, and Round Table branches.
Such relationships will help FTA become a more credible force with politicians, and he is already keen that the Greater London Council should discuss its plans with the association, once the results of the Wood Inquiry become available. "Those of us in industry understand what the GLC is trying to do, but there is a danger that if we don't get our view across, decisions will be taken against our interests. Then, the community could suffer, too."
FTA, as a customer of transport, has a role to play in the British Rail debate, and will lose no time in putting its point of view across to BR, Mr Howell, and MPs. He says there is little to fault in BR's freight service, but its costs are so high that it cannot compete with road haulage for any journey of less than 100 miles. He says that, "somehow or other", BR must crack its cost problem, and especially its labour costs, which now amount to about 67 per cent of all its costs.
By comparison, dery represents about 19 per cent of haulage costs, and vehicle excise duty about three per cent, so a 10 per cent rise in BR wage costs has a far more drastic effect than any of the recent Budget changes for haulage. Increased volume through rail terminals will help keep down costs, but there is no escaping the productivity issue, and not just the thorny question of flexible rostering which is bubbling close to the surface at present.
No doubt these and other matters of heavy moment will still be being debated after Ian's term of office, which lasts certainly for one year, and by tradition for two.