Engineering News
1st May 1982
Page 14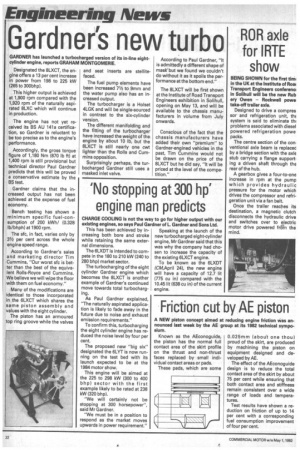 Page 14, 1st May 1982 —
Engineering News
Close
Gardner's new turbo
GARDNER has launched a turbocharged version of its in-line eightcylinder engine, reports GRAHAM MONTGOMERIE.
Designated the 8LXCT, the engine offers a 13 per cent increase in power from 198 to 225 kW (265 to 300bhp).
This higher output is achieved at 1,900 rpm compared with the 1,920 rpm of the naturally aspirated 8LXC which will continue in production.
The engine has not yet received its BS AU 141a certification, so Gardner is reluctant to be too precise as to the engine's performance.
Accordingly, the gross torque figure of 1,180 Nm (870 lb ft) at 1,400 rpm is still provisional but technical director Paul Gardner predicts that this will be proved a conservative estimate by the BS test.
Gardner claims that the increased output has not been achieved at the expense of fuel economy.
Bench testing has shown a minimum specific fuel-consumption of 200 kWh/ (0.328 lb/bhph) at 1900 rpm.
The sfc, in fact, varies only by 31/2 per cent across the whole engine speed range.
According to Gardner's sales and marketing director Tim Cummins, "Our worst sfc is better than the best of the equivalent Rolls-Royce and Cummins. We believe we will wipe the floor with them on fuel economy."
Many of the modifications are identical to those incorporated in the 6LXCT which shares the same piston assembly and values with the eight cylinder.
The piston has an armoured top ring groove while the valves and seat inserts are stellitefaced.
The fuel pump elements have been increased 71/2 to 9mm and the water pump also has an increased output.
The turbocharger is a Holset 4LGK and will be single-sourced in contrast to the six-cylinder version.
The different manifolding and the fitting of the turbocharger have increased the weight of the engine by about 10 lb, but the 8LXCT is still nearly one cwt lighter than the Rolls and Cummins opposition.
Surprisingly perhaps, the turbocharged Gardner still uses a masked inlet valve. According to Paul Gardner, "It is admittedly a different shape of mask but we found we couldn't do without it as it spoils the performance at the bottom end."
The 8LXCT will be first shown at the Institute of Road Transport Engineers exhibition in Solihull, opening on May 13, and will be available to the chassis manufacturers in volume from July onwards.
Conscious of the fact that the chassis manufacturers have added their own "premium" to Gardner-engined vehicles in the past, Tim Cummins would not be drawn on the price of the 8LXCT but he did say, "It will be priced at the level of the competition."