Passenger News Hours fines
1st May 1982
Page 13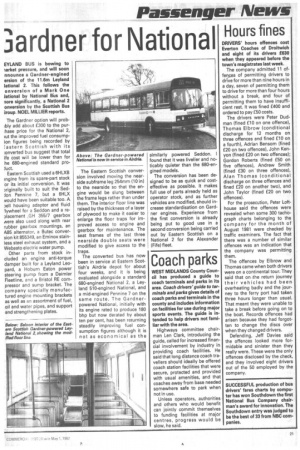 Page 13, 1st May 1982 —
Passenger News Hours fines
Close
DRIVERS' hours offences cost Everton Coaches of Droitwich and eight of its drivers £630 when they appeared before the town's magistrates last week.
The company admitted 11 offences of permitting drivers to drive for more than nine hours in a day, seven of permitting them to drive for more than four hours without a break, and four of permitting them to have insufficient rest. It was fined £400 and ordered to pay £50 costs.
The drivers were Peter Dudman (fined £10 on one offence), Thomas Elbrow (conditional discharge for 12 months on three offences and fined £10 on a fourth), Adrian Bensom (fined £20 on two offences), John Kenyon (fined £20 on two offences); Gordon Roberts (fined £50 on five offences), Andrew Smith (fined £30 on three offences), Alan Thomas (conditional discharge on three offences and fined £20 on another two), and John Taylor (fined £20 on two offences).
For the prosecution, Peter Lofthouse said the offences were revealed when some 300 tachograph charts belonging to the company for the month of August 1981 were checked by traffic examiners. The fact that there was a number of similar offences was an indication that the company was permitting them.
The offences by Elbrow and Thomas came when both drivers were on a continental tour. They said that on .the return journey their vehicles had been overheating badly and the journey to the ferry port had taken three hours longer than usual. That meant they were unable to take a break before going on to the boat. Records offences had arisen because they had forgotten to change the discs over when they changed drivers.
Defending, Jeff Davies said the offences looked more formidable and sinister than they really were. These were the only offences disclosed by the check, and they involved eight drivers out of the 50 employed by the company.