Trailer wheel-lock eliminated
1st May 1982
Page 10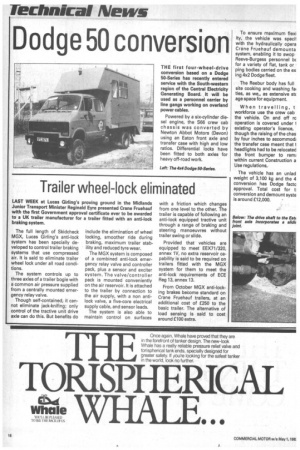 Page 10, 1st May 1982 —
Trailer wheel-lock eliminated
Close
LAST WEEK at Lucas Girling's proving ground in the Midlands Junior Transport Minister Reginald Eyre presented Crane Fruehauf with the first Government approval certificate ever to be awarded to a UK trailer manufacturer for a trailer fitted with an anti-lock braking system.
The full length of Skidcheck MGX, Lucas Girling's anti-lock system has been specially developed to control trailer braking systems that use compressed air. It is said to eliminate trailer wheel lock under all road conditions.
The system controls up to three axles of a trailer bogie with a common air pressure supplied from a centrally mounted emergency relay valve.
Though self-contained, it cannot eliminate jack-knifing; only control of the tractive unit drive axle can do this. But benefits do include the elimination of wheel locking, smoother ride during braking, maximum trailer stability and reduced tyre wear.
The MGX system is composed of a combined anti-lock emergency relay valve and controller pack, plus a sensor and exciter system. The valve/controller pack is mounted conveniently on the air reservoir. It is attached to the trailer by connection to the air supply, with a non antilock valve, a five-core electrical supply cable, and sensor leads.
The system is also able to maintain control on surfaces with a friction which changes from one level to the other. The trailer is capable of following an anti-lock equipped tractive unit through a range of braking and steering manoeuvres without trailer swing or slide.
Provided that vehicles are equipped to meet EEX71/320, annex 1V, no extra reservoir capability is said to be required on trailers fitted with the MGX system for them to meet the anti-lock requirements of ECE Reg 13, annex 13.
From October MGX anti-locking brakes become standard on Crane Fruehauf trailers, at an additional cost of £250 to the basic trailer. The alternative of load sensing is said to cost around £100 extra.