Dodge 50 conversion
1st May 1982
Page 10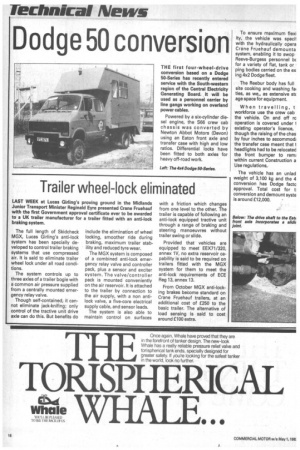 Page 10, 1st May 1982 —
Dodge 50 conversion
Close
THE first four-wheel-drive conversion based on a Dodge 50-Series has recently entered service with the South-western region of the Central Electricity Generating Board. It will be used as a personnel carrier by line gangs working on overland power cables.
Powered by a six-cylinder diesel engine, the S66 crew cab chassis was converted by Newton Abbot Motors (Devon) using an Eaton front axle and transfer case with high and low ratios. Differential locks have been fitted to both axles for heavy off-road work. To ensure maximum flexi ity, the vehicle was speci1 with the hydraulically opera Crane Fruehauf demounta system, enabling it to swop Reeve-Burgess personnel b( for a variety of flat, tank or ping bodies carried on the ex log 4x2 Dodge fleet.
The Reebur body has full site cooking and washing fa• ties, as we" as extensive st( age space for equipment.
When travelling, t workforce use the crew cab the vehicle. On and off rc operation is covered under 1 existing operator's licence, though the raising of the chas by four inches to accommod, the transfer case meant that 1 headlights had to be relocated the front bumper to rem within current Construction a Use regulations.
The vehicle has an unlad weight of 3,100 kg and the 4 conversion has Dodge tack approval. Total cost for t conversion and demount syste is around £12,000.