NO ENFORCED BRAKING OF SEPARATE TRAILER
1st December 1944
Page 31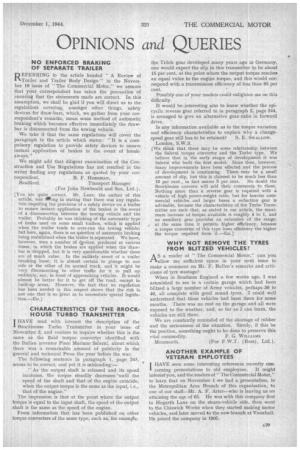 Page 31, 1st December 1944 —
NO ENFORCED BRAKING OF SEPARATE TRAILER
Close
Keywords :
Road Transport
,
Articulated Vehicles
,
Agricultural Machinery
,
Mechanical Engineering
,
Trailer
,
Towing
,
Drawbar
,
Railway Brake
,
Semi-trailer
,
Jackknifing
,
Technology / Internet
REFERRING to the article headed "A Review of I %Trailer and Trailer Body Design" in the November 10 issue of "The Commercial Motor," we assume that your, correspondent has taken the precaution of ensuring that the statements made are correct. In this assumption, we shall be glad if you will direct us to the regulations covering, amongst other things, safety devices for draw-bars, which, we gather from your correspondent's remarks, mean some method of automatic braking which becomes effective immediately the drawbar is disconnected from the towing vehicle.
We take it that the same regulations will cover the paragraph in the article which states: "It is a compulsory regulation to provide safety devices to ensure_ instant application of brakes in the event of breakaways."
We might add that diligent examination of the Construction and Use Regulations has not resulted in the writer finding any regulations as quoted by your cor respondent. B. F. HORSMAN, Bradford. Transport Manager (For John Newbould and Son, Ltd.). [You arc quite correct. Mr. Lane, the author of this
article, was gong in stating that there was any regulation requiring the provision of a safety device on a trailer to ensure instant application of the brakes in the event of a disconnection between the towing vehicle and the trailer. Probably he was thinking of the automatic type of brake used -on some small trailers, which is applied when the trailer tends to over-run the towing vehicle; but here, again, there is no question of automatic braking being maintained when the trailer is separated. We have, however, seen a number of devices, produced at various times, in which the brakes are applied when the drawbar is dropped, but it is very questionable whether these are of much value. In the unlikely event of a trailer breaking loose, it is almost certain to plunge to one side or the other of its normal track, and it might be very disconcerting to other traffic for it to pull up suddenly, say, in front of approaching vehicles. It would almost be better for it to get off the road, except in built-up areas. However, the fact that no regulation has been needed in this respect shows that the risk is not one that is so 'great as to necessitate special legislation.—ED.]