GROUP BULK BUYING FOR SMALL HAULIERS
1st December 1944
Page 23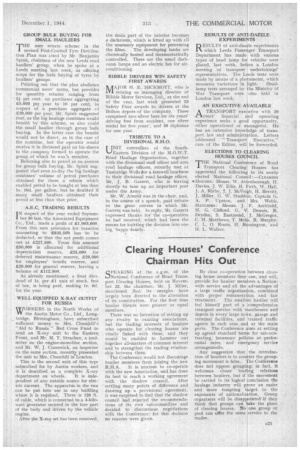 Page 23, 1st December 1944 —
GROUP BULK BUYING FOR SMALL HAULIERS
Close
HE user rebate scheme in the I revised Post-Control Tyre Distribution Plan was cited by Mr. Benjamin Spink, chairman of the new Leeds road hauliers' group, when he spoke at a Leeds meeting last week, as offering scope for the bulk buying of tyres by hauliers' groups.
Pointing out that the plan abolishes commercial users' terms, but provides for quantity rebates ranging from 2i per cent, on purchases aggregating £5,000 per year to 10 per cent, in respect of a purchase aggregate cf £20,000 per year, Mr. Spink suggested that, as the big haulage combines would benefit by this scheme, so also could the small haulier through group bulk buying. In the latter case the benefit would not be direct, as in the case of the combine, but the operator would receive it in dividend paid on his shares in the company formed to operate the group of which he was 'it member,
Referring also to petrol as an avenue for group bulk buying, Mr. Spink suggested that even to-day the big haulage combines' volume of petrol purchases obtained for them a rebate which enabled petrol to be bought at less than Is. 10d. per gallon, but he doubted if many small hauliers obtained their petrol at less than that price.
A.B.C. TRADING RESULTS IN respect of the year ended September 30 last, the Associated Equipment Co., Ltd., made a profit of £1,063,000. From this sum provision for taxation amounting to £835,50b has to be deducted, so that the net profit.comes out at £227,500. From this amount £50,000 is allocated for additional depreciation reserve, £25,000 for deferred maintenance reserve, £20,000 for employees' benefit reserve, and £20,000 for general reserve, leaving a balance of £112,500.
As already mentioned, a final dividend of Is, per £1 unit of stock, free of tax, is being paid, making 1s. 6d, for, the year.
WELL-EQUIPPED X-RAY OUTFIT , FOR RUSSIA
WORKERS in the North Works of W the Austin Motor Co., Ltd., Longbridge, Birmingham, have subscribed sufficient money to Mrs. Churchill's -Aid to Russia" Red Cross Fund to send an X-ray unit to the Eastern Front, and Mr. M. T. Strachan, a toolsetter on the engine-monobloc section, and Mr. W. J. Cranswick, an inspector on the same section, recently presented the unit to Mrs. Churchill in London.
This is the second unit of this type subscribed for by Austin workers, and it is described as a complete X-ray
department on wheels. h is independent of any outside source for electric current. The apparatus in the van can be put into use in any building where it is required. There is 120 ft. of cable, which is connected to a 4-kilowatt generator secured in the fore part of the body and driven by the vehicle engine.
After the X-ray set has been removed, the main part of the interior becomes a darkroom, which is fitted up with ell the necessary equipment for processing the films. The developing tanks are electrically heated and thermostatically controlled. There are the usual darkroom lamps and an electric fan for airconditioning.
RIBBLE DRIVERS WIN SAFETY FIRST AWARDS
.UTAJOR H. E. HICKMOTT, who is 1V1 retiring as managing director of Ribble Motor Services, Ltd., at the end of the year, last week presented 23 Safety First awards to drivers at the Bolton depots of the company. These comprised two silver bars for six years' driving free from accident, one silver medal for five years', and 20 diplomas for one year.
TRIBUTE TO A DIVISIONAL R11.0.
I 'NIT controllers of the South"-'Eastern Division of the M.O.W.T. Road Haulage Organization, together with the divisional staff officer and area • road haulage officers, recently met at Tunbridge Wells for a farewell luncheon to their divisional road haulage officer, Mr, J. B. Garrett, who is leaving shortly to take up an important post under the Army.
Mr. W. Arnold was in the chair, and, in the course of a speech, paid tribute to the great esteem in which Mr. Garrett was held. In reply, Mr. Garrett expressed thanks for the co-operation he had received, which had been the means for knitting the division into one big, happy family. RESULTS OF ANTI-DAZZLE EXPERIMENTS
RESULTS of anti-dazzle experiments which Leeds Passenger Transport Department has made with various types of head lamp for vehicles were placed, last week, before a London meeting of transport undertakings' representatives. The Leeds tests were made by means of a photometer, which measures variations in light. Headlamp tests arranged by the Ministry of War Transport were also held in London last week, AN EXECUTIVE AVAILABLE ATRANSPORT executive with 20 ears' financial and operating experience seeks a good opportunity, either operational or managerial. He has an extensive knowledge of transport law and adniinistration. Letters addressed " Transport Executive," care of the Editor, will be forwarded.
ELECTIONS TO CLEARING HOUSES COUNCIL
HE National Conference of Road I Transport Clearing Houses has appointed the following to its newly elected National Council: —CLEARING • HOUSES : Messrs. W. Attenborough, H. Davies, J. W. Ellis, H. Firth, W. [Tall, J. A. Kirby, j. J. McVeigh, H, Merritt, J. Miller, G. W. Staddon, Captain G. A. P. Upston, and Mrs. Webb. HAULIERS: Mesa's. J. F. Archbold, H. G. Clifford, G. V. Dennis, R. Dryden, S. Eastmead, J. McGregor, C. H. Matthews, T. Melia, R. Murphy, C. L, 0. Roots, II. Rossington, and H. L. Walker.