Clearing Houses' Conference Chairman Hits Out
1st December 1944
Page 23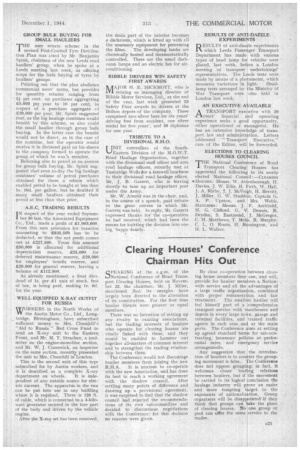 Page 23, 1st December 1944 —
Clearing Houses' Conference Chairman Hits Out
Close
SPEAKING at the a.g.m. of the National Conference of Road Transport Clearing Houses, held on November '22, the chairman, Mr. J. Miller, Mentioned .that its energies have largely been directed to the alteration of its constitution. For the first time _ haulier friends were present as equal members.
There was no Intention of setting up any rivalry to existing associations, but the trading interests of hauliers who operate for clearing houses are vitally linked with these, and they would be enabled to hammer out together allematters of common interest and to strengthen the trading relationship between them. The Conference would not discourage haulier members from joining the new R.H.A. It is anxious to co-operate With the new Association, and has done its best to reach a working agreement with the shadow council.. After settling many points of difference and drawing up a provisional agreement, it was surprised to find that the shadow council had rejected the recommendations of its own sub-committee and decided to discontinue negotiations with the Conference; for this decision no reasons were given. By close co-operation between clearing house members they can, and will, provide for haulier members a Nationwide service and all the advantages of a large traffic organization, combined with proper remuneration and fair treatment. The smallest haulier will feel himself part of a comprehensive transport service with warehouses and depots in every large town, garage and terminal facilities, and trained traffic agents in each area and at the main ports. The Conference aims at setting up agreed standard terms for sub-contracting, insurance policies at preferential rates, and emergency service arrangements.
Any suggestion that the introduction of hauliers is to counter the grouping movement is false_ The Conference does not oppose grouping: in fact, it welcomes closer trading relations between hauliers, but if the movement be carried to its logical conclusion the haulage industry will prove an easier and more tempting target to the exponents of nationalization. Group organizers will be disappointed' if they think that groups can take the place of clearing houses. No one group or pool can offer the same service to the trader.