Personal Pars
1st December 1944
Page 22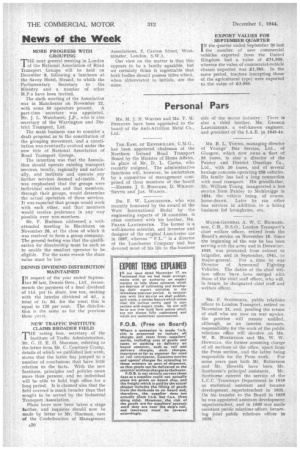 Page 22, 1st December 1944 —
Personal Pars
Close
MR. M. J. B. Witirav and MR. T. M. PRIESTEY have been appointed to the board of the Anti-Attrition Metal Co., Ltd.'
THE EARL OF ENNISKILLEN, C.M.G., has been appointed chairman of the Northern Ireland Road Transport Board by the Minister of Home Affairs, in place of Mr. D. L. Clarke, who recently resigned. The administrative functions will, however, be undertaken by a committee of management comprised of three members of the board —MESSRS. 3. S. RODGERS, D. WitsoxSMYTH and JAS. WILSON.
DR. F. W. LANCHESTER, who was recently honoured by the award of the Watt International Medal by the engineering experts of 18 countries, is often confused with his brother, MR. FRANK LANCHESTER. The former is a well-known scientist, and inventor and designer of the original Lanchester car in 1897, whereas " FL." is a director of the Lanchester Company and has devoted most of his life to the, business side of the motor industry. There is also a third brother, MR. GEORGE LANCHESTER, a well-known engineer. and president of the I.A.E. in 1943-44.
MR. R. L. YOUNG, managing director of Youngs Bus Service, Ltd., of Glasgow, which now owns -a fleet of 95 buses, is also a director of the Paisley and District Omnibus Co., Ltd., with 20 buses, and of several haulage concerns operating 258 vehicles. His family has had a long connection with road transport. His grandfather, Mr. William Young, inaugurated a bus service from Paisley to Meikleriggs in 1894, the vehicle being, of course, horse-drawn. Later he ran other bus services in addition to a hiring business fot broughams, etc.
MAJOR-GENERAL A. W. C. RICHARD SON, C.13., D.S.O., London Transport's chief welfare officer, retired from the Board's service on November 18. Since the beginning of the war he has been serving with the army and in December, 1940, was promoted from colonel to brigadier, and in September, 1941, to Major-general. For atime he wasDirector of Armoured Fighting Vehicles. The duties of the chief welfare officer have been merged with those of the chief staff officer, who will, in future, be designated chief staff and welfare officer.
MR. F. SCOTHORN.E, public relations officer to London Transport, retired on November 24, and, pending the return of staff who are now on war service, the position will remain unfilled, although, as an interim measure, responsibility for the work of the public relations office will devolve on MR,
W. R. ROBERTSON and MR. W. W. HOWELLS, the former assuming charge of all sections of the office, apart from the Press section, and the latter being
responsible for the Press work, For some years past both Mr. Robertson and Mr. Howells have been Mr.
Scothorne's principal assistants. Mr. Scothorne entered the service of the L.C.C.Tramways Department in 1919 as statistical assistant and became development_ superintendent in 1925. On his transfer to the Board in 1933 he was appointed assistant development superintendent, and in 1936 was made assistant public relations officer, becoming joint public relations officer in 1939.
Tags
People
:
W. W. HOWELLS
,
GEORGE LANCHESTER
,
D. L. Clarke
,
F. SCOTHORN
,
C. RICHARD SON
,
FRANK LANCHESTER
,
R. L. YOUNG
,
F. W. LANCHESTER
,
Scothorne
,
T. M. PRIESTEY
,
William Young
,
R. ROBERTSON