News of the Week
1st December 1944
Page 22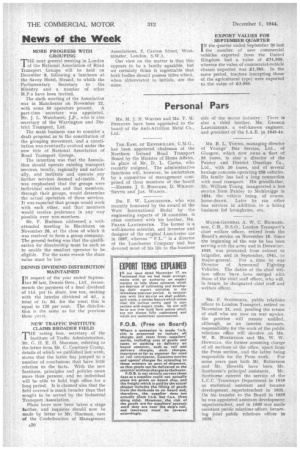 Page 22, 1st December 1944 —
News of the Week
Close
MORE PROGRESS WITH GROUPING
THE next general meeting in London of the National Association of Road Transport Groups will be held on December 8, following a luncheon at the Savoy Hotel, Strand, to which the Parliamentary Secretary to the Ministry and a number of other M.P.s have been invited.
The sixth meeting of the Association was in Manchester on November 22, with some 50 operators present. A part-time secretary was appointed,
Mr. J. L. Watchurst, who is also secretary of the Warrington and District Transport, Ltd.
The main business was to consider a draft proposal as to the constitution of the grouping movement, and a constitution was eventually evolved under the new title of National Association of Road Transport Groups.
The intention was that the Association should operate existing transport services, locally, regionally and nation.: ally, and institute and operate any further services deemed advisable. It was emphasized that the groups were individual entities and that members, through their groups, would determine the actual operation of these services. It was expected that groups would work with each other, and that members would receive preference in any way passible over non-members.
Mr, F. Rudman addressed a well. attended meeting in Blackburn on November 26, at the close of which it was resolved to form a group company. The general feeling was that the qualification for directorship must be such as to enable the smallest operator to be eligible. For the same reason the share value must be low.
DENNIS DIVIDEND DISTRIBUTION MAINTAINED