I N respect of the year ended Septem
1st December 1944
Page 22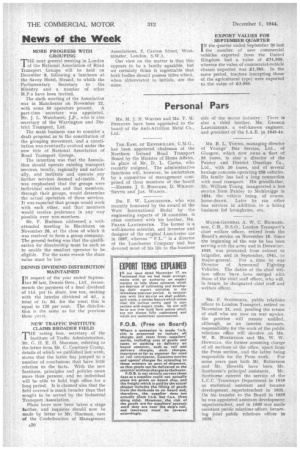 Page 22, 1st December 1944 —
I N respect of the year ended Septem
Close
ber 30 last, Dennis Bros., Ltd., recommends the payment of a final dividend of lid, per Is. share, less tax, making with the interim dividend of 4d., a total of Is.. 3d. for the year: this is equal to 125 per cent. The distribution is the same as for the previous three yea rs.
NEW TRAFFIC INSTITUTE CLAIMS BROADER FIELD
• rr'HE acting hon. secretary of the . 1 Institute of Traffic Administration, Mr. G. H. E. H. Sharman, referring to the letter from Mr. C. Courtney Cramp, details of which we published last week, states that the latter has jumped to a number of conclusions that have little relation to the facts. With the new Institute, principles and policies mean more than persons, and no individual will be able to hold high office for a long period. It is claimed also that the field covered is much broader than that sought to be served by the Industrial Transport Association.
Plans have now been taken a stage farther, and inquiries should now he made by letter to Mr. Sharman, care of the Confederation of Management
Associations, 2, Caxton Street, Westminster, London, S.W.1.
Our view on the matter is that this appears to be a family squabble, but we certainly think it regrettable that both bodies should possess titles which, when abbreviated to initials, are the same. EXPORT VALUES FOR SEPTEMBER QUARTER
I N the quarter ended September 30 last the number of new commercial vehicles exported from the United Kingdom had a value of 274,938, whereas the value of commercial-vehicle chassis exported was £1,785. In the same period, tractors (excepting those of the agricultural type) were exported to the value of £3,956.