'ius ca change
19th September 1981
Page 2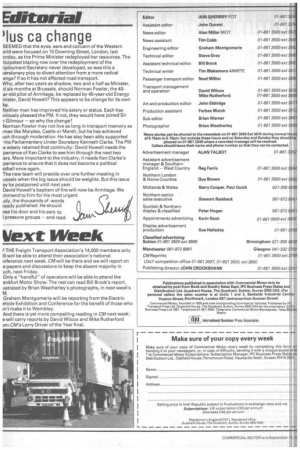 Page 2, 19th September 1981 —
'ius ca change
Close
SEEMED that the eyes, ears and concern of the Western odd were focused on 10 Downing Street, London, last anday, as the Prime Minister redeployed her resources. The ticipated blazing row over the redeployment of the iployment Secretary never developed, so was this a rersionary ploy to divert attention from a more radical ange? If so it has not affected road transport.
Why, after two years as shadow, two and a half as Minister, d six months at Brussels, should Norman Fowler, the 43ar-old pilot of Armitage, be replaced by 45-year-old Energy mister, David Howell? This appears to be change for its own ke.
Neither man has improved his salary or status. Each has iviously pleased the PM. If not, they would have joined Sir Gilmour — so why the change?
Norman Fowler may not live as long in transport memory as Imes like Marples, Castle or Marsh, but he has achieved uch through moderation. He has also been ably supported his Parliamentary Under Secretary Kenneth Clarke. The PM is wisely retained that continuity: David Howell needs the perience of Ken Clarke to see him through the next two ars. More important to the industry, it needs Ken Clarke's :perience to ensure that it does not become a political otball once again.
The new team will preside over one further meeting in 'ussels when the big issue should be weights. But this issue ay be postponed until next year.
David Howell's baptism of fire will now be Armitage. We Immend to him for his most urgent Jdy, the thousands of words ready published. He should lase his door and his ears to I pressure groups — and read.