Double artic carries 22E
19th September 1981
Page 10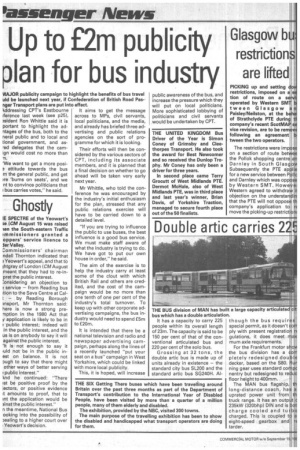 Page 10, 19th September 1981 —
Double artic carries 22E
Close
THE BUS division of MAN has built a large capacity articulated cit bus which has a double articulation.
It has a capacity to carry 225 people within its overall length of 23m. The capacity is said to be 150 per cent of that of the conventional articulated bus and 220 per cent of the solo bus.
Grossing at 32 tons, the double artic bus is made up of units already in existence — the standard city bus SL200 and the standard artic bus SG240H. Al though the bus requires special permit, as it doesn't COR ply with present registration re gulations, it does meet max mum axle requirements.
For the Frankfurt motor shovi the bus division has a conpletely redesigned double decker, based on the 580. Rur ning gear uses standard compc nentry but redesigned to reduc floor height to 400mm.
The MAN bus flagship, th long-distance coach, has a uprated power unit from th truck range. It has an output 235kW (320bhp) DIN and is bot charge cooled and turbo charged. This is coupled to a eight-speed gearbox and rE tarder.