B.T.C. " Frankness " Praised by Judge
19th February 1954
Page 53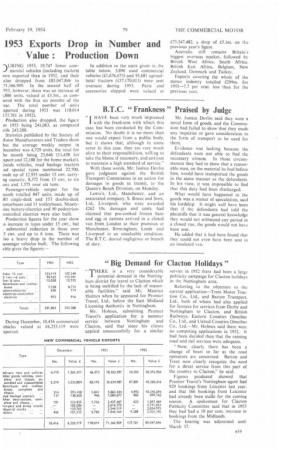 Page 53, 19th February 1954 —
B.T.C. " Frankness " Praised by Judge
Close
" T. HAVE been very much impressed
I. with the frankness with which this case has been conducted by the Commission. No doubt it is no more than one would expect from a public body, but it shows that, although in some error in this case, they are very much alive to their responsibilities, willing to take the blame if necessary, and anxious to maintain a high standard of service."
With these words, Mr. Justice Devlin gave judgment against the British Transport Commission in an action for damages to goods in transit, in the Queen's Bench Division, on Monday.
Lewis's, Ltd., Manchester, and an associated company, S. Reece and Sons, Ltd., Liverpool, who were awarded £262 10s. damages and costs, had claimed that pre-cooked frozen ham and egg in cartons arrived in a closed van from London at their premises at Manchester, Birmingham, Leeds and Liverpool in an unsaleable condition. The R.T.C. denied negligence or breach of duty.
Mr. Justice Devlin said they were a novel form of goods, and the Commission had failed to show that they made any inquiries or gave consideration to the form of transport to be used for them.
Evidence was lacking because the defendants were not able to find the necessary witness. In those circumstances they had to show that a reasonable man, on the material he had before him, would have transported the goods in the same manner as the defendants. In his view, it was impossible to find that this duty had been discharged.
What would have happened to the goods was a matter of speculation, said his lordship. It might well have been that if the defendants had told the plaintiffs that it was general knowledge they would not withstand any period in a closed van, the goods would not haw been sent.
He added that it had been found that they could not even have been sent in an insulated van,