"Big Demand for Clacton Holidays"
19th February 1954
Page 53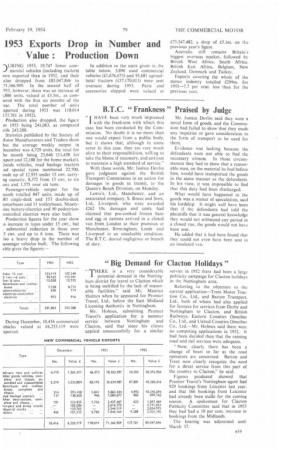 Page 53, 19th February 1954 —
"Big Demand for Clacton Holidays"
Close
" THERE is a very considerable potential demand in the Nottingham district for travel to Clacton which is being stultified by the lack of reasonable facilities," said Mr. Maurice Holmes when he appeared for Premier Travel, Ltd., before the East Midland Licensing Authority in Nottingham.
Mr. Holmes, submitting Premier Travel's application for a summer service between Nottingham and Clacton, said that since his clients applied unsuccessfully for a similar
service in 1952 there had been a large publicity campaign for Clacton holidays in the Nottingham area,
Referring to the objectors to the current application-Trent Motor Traction Co., Ltd., and Barton Transport. Ltd., both of whom had also applied for licences for services from Derby and Nottingham to Clacton, and British Railways, Eastern Counties OmnibuF Co.. Ltd., and United Counties Omnibu.5 Co., Ltd.-Mr. Holmes said there were no competing applications in 1952. II had been decided then that the existing road and rail services were adequate.
"Now, clearly there has been a change of heart so far as the road operators are concerned. Barton and Trent now clearly recognize the need for a direct service from this part of the country to Clacton," he said.
Figures produced showed that Premier Travel's Nottingham agent had 929 bookings from Leicester last year, and that 166 bookings from Leicester had already been malle for the coming season. A spokesman for Clacton Publicity Committee said that in 1953 they had had a 10 per cent, increase in bookings from the Midlands.
The hearing was adjourned until March 17.