Moscow's Transport First Class
19th February 1954
Page 52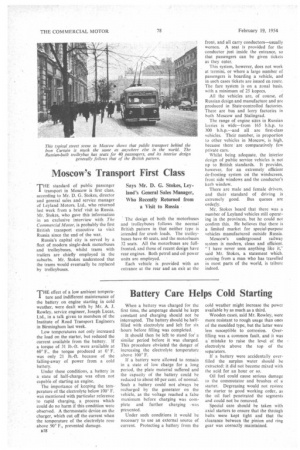 Page 52, 19th February 1954 —
Moscow's Transport First Class
Close
Says Mr. D. G. Stokes, Leyland's General Sales Manager, Who Recently Returned from a Visit to Russia THE standard of public passenger transport in Moscow is first class, according to Mr. D. G. Stokes, director and general sales and service manager of Leyland Motors, Ltd., who returned last week from a brief visit to Russia. Mr. Stokes, who gave this information in an exclusive interview with The Commercial Motor, is probably the first British transport executive to visit Russia since the end of the war.
Russia's capital city is served by a fleet of modern single-deck motorbuses and trolleybuses, whilst trams with trailers are chiefly employed in the suburbs. Mr. Stokes understood that the trams would eventually be replaced by troIleybuses. The design of both the motorbuses and trolleybuses follows the normal British pattern in that neither type is intended for crush loads. The trolleybuses have 40 seats, and the motorbuses 32 seats. All the motorbuses are fullfronted, and those of recent design have rear engines. Both petrol and oil power units are employed.
Each vehicle is provided with an entrance at the rear and an exit at the front, and all carry conductors—usually women. A seat is provided for the conductor just inside the entrance, so that passengers can be given tickets as they enter.
This system, however, does not work at termini, or where a large number of passengers is boarding a vehicle, and in such cases tickets are issued en route. The fare system is on a zonal basis, with a minimum of 25 kopecs.
All the vehicles are, of course, of Russian design and manufacture and are produced in State-controlled factories. There are bus and lorry factories in both Moscow and Stalingrad.
The range of engine sizes in Russian lorries is wide—from 165 b.h.p. to 300 b.h.p.—and all are first-class vehicles. Their number, in proportion to other vehicles in Moscow, is high, because there are comparatively few private cars.
Whilst being adequate, the interior design of public service vehicles is not up to British standards. It provides, however, for an extremely efficient de-frosting system on the windscreen, front side windows and the conductor's kerb window.
There are male and female drivers, and their standard of driving is extremely good. Bus queues are orderly.
Mr. Stokes heard that there was a number of Leyland vehicles still operating in the provinces, but he could not confirm this. He believes that there is a limited market for special-purpose vehicles manufactured outside Russia.
Moscow's underground railway system is modern, clean and efficient. "I have never seen anything like it," said Mr. Stokes, a statement which. coming from a man who has travelled in most parts of the world, is tribuie indeed.