Can "Artie" Replace Rigid Vehicle?
19th February 1954
Page 45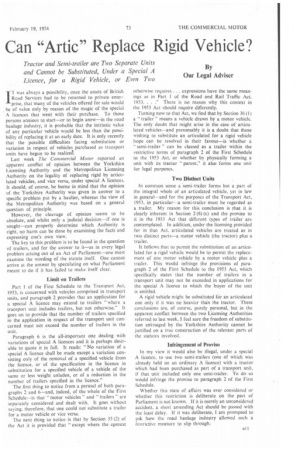 Page 45, 19th February 1954 —
Can "Artie" Replace Rigid Vehicle?
Close
Tractor and Semi-trailer are Two Separate Units and Cannot be Substituted, Under _a Special A Licence, for a Rigid Vehicle, or Even Two
By Our Legal Adviser
IT was always a possibility, once the assets of British Road Services had to be returned to private enterprise, that many of the vehicles offered for sale would be of value only by reason of the magic of the special A licences that went with their purchase. To those persons anxious to start—or to begin anew—in the road haulage industry, it is probable that the intrinsic value of any particular vehicle would be less than the possibility of replacing it at an early date. It is only recently that the possible difficulties facing substitution or variation in respect of vehicles purchased as transport units have begun to be realizea.
Last week The Commercial Motor reported an apparent conflict of opinion between the Yorkshire Licensing Authority and the Metropolitan Licensing Authority on the legality of replacing rigid by articulated vehicles, and vice versa, under special A licences. It should, of course, be borne in mind that the opinion of the Yorkshire Authority was given in answer to a specific problem put by a haulier, whereas the view of the Metropolitan Authority was based on a general question of principle.
However, the cleavage of opinion seems to he absolute, and whilst only a judicial decision—if one is sought—can properly determine which Authority is right, no harm can be done by examining the facts and expressing one's own view.
The key to this problem is to be found in the question of trailers, and for the answer to it—as in every legal problem arising out of an Act of Parliament—one must examine the wording of the statute itself. One cannot arrive at the answer by speculating on what Parliament meant to do if it has failed to make itself clear.
Limit on Trailers
Part 1 of the First Schedule to the Transport Act, 1953, is concerned with vehicles comprised in transport units, and paragraph 2 provides that an application for a special A licence may extend to trailers "where a transport unit includes trailers, but not otherwise." It goes on to provide that the number of trailers specified in the application in respect of the transport unit concerned must not exceed the number of trailers in the unit. .
Paragraph 6 is the all-important one dealing with variations of special A licences and it is perhaps desirable to quote it in full. It reads: "No variation of a special A licence shall be made except a variation consisting only of the removal of a specified vehicle from the licence, or of the specification in the licence in substitution for a specified vehicle of a vehicle of the same or less weight unladen, or of a reduction in the number of trailers specified in the licence."
The first thing to notice from a perusal of both paragraphs 2 and 6—and, indeed, of the whole of the First Schedule—is that "motor vehicles" and " trailers " arc separately considered and dealt with. It goes without saying, therefore, that one could not substitute a trailer for a motor vehicle or vice versa.
The next thing to notice is that by Section 35(2) of the Act it is provided that " except where the cpntext otherwise requires . . . expressions have the same meanings as in Part I of the Road and Rail Traffic Act, 1933. . . ." There is no reason why this context in the 1953 Act should require differently.
Turning now to that Act, we find that by Section 36(1) a " trailer" means a vehicle drawn by a motor vehicle. The only doubt that might arise in the case of articulated vehicles—and presumably it is a doubt that those wishing to substitute an articulated for a rigid vehicle hope can be resolved in their favour—is whether a " semi-trailer" can be classed as a trailer within the restrictive terms of paragraph 2 of the First Schedule to the 1953 Act, or whether by physically forming a unit with its tractor parent," it also forms one unit for legal purposes.
Two Distinct Units
In common sense a semi-trailer forms but a part of the integral whole of an articulated vehicle, yet in law in general—and for the purposes of the Transport Act, 1953, in particular—a semi-trailer must be regarded as a trailer. My reason for this conclusion is that it is clearly inherent in Section 2 (6)(c) and the proviso to it in the 1933 Act that different types of trailer are contemplated. In addition, under the licensing provided for in that Act, articulated vehicles are treated as in two distinct parts—a motor vehicle (the tractor) plus a trailer.
It follows that to permit the substitution of an articulated for a rigid vehicle would be to permit the replacement of one motor vehicle by a motor vehicle plus a trailer. This would infringe the provisions of paragraph 2 of the First Schedule to the 1953 Act, which specifically states that the number of trailers in a transport unit may not be exceeded in applications for the special A licence to which the buyer of the unit is entitled.
A rigid vehicle might be substituted fOr an articulated one only if it was no heavier thin the tractor. These conclusions are, of course, purely personal, but in the apparent conflict between the two Licensing Authorities referred to last week. I feel sure the freedom of substitution enirisaged by the Yorkshire Authority cannot be justified on a true construction of the relevant parts of the statutes involved.
Infringement of Proviso
In my view it would also be illegal, under a special A licence, to use two semi-trailers (one of which was already held on an ordinary A licence) with a tractor which had been purchased as part of a transport unit, if that unit included only one semi-trailer. To do so would infringe the proviso to paragraph 2 of the First Schedule.
Whether this state of affairs was ever considered or whether this restriction is deliberate on the part of Parliament is not known. If it is merely an unconsidered accident, a short amending Act should be passed with the least delay. if it was deliberate, I am prompted to ask how the road haulage industry allowed such a Festrictive measure to slip through.