Early Notice of Icy Roads Needed
19th February 1954
Page 39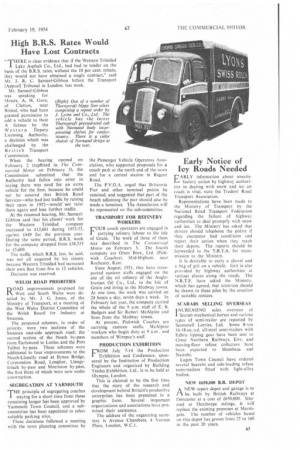 Page 39, 19th February 1954 —
Early Notice of Icy Roads Needed
Close
EARLY information about unsatis. factory action by highway authori. ties in dealing with snow and ice on roads is vital, state the Traders' Road Transport Association.
Representations have been made to the Ministry of Transport by the National Road Transport Federation regarding the failure of highway authorities to deal promptly with snow and ice. The Ministry has asked that drivers should telephone the police if they encounter bad conditions and report their action when they reach their depots. The reports should be forwarded to the T.R.T.A. for transmission to the Ministry.
It Is desirable to carry a shovel and a bag of grit on a vehicle. Grit is also provided by highway authorities at various places along the roads. The N.R.T.F. have asked the Ministry, which has agreed, that attention should be drawn to these piles by the erection of suitable notices.
SCARABS SELLING OVERSEAS INCREASING sales overseas of 1 Scarab mechanical horses and various types of semi-trailer are reported by Scammell Lorries, Ltd. Some 8-ton 16-18-cu.-yd. all-steel semi-trailers with Edbro tipping gear have been sent to Great Northern Railways, Eire, and moving-floor refuse collectors have been exported to Mombasa and Nairobi.
Lagos Town Council have ordered several Scarabs and side-loading refuse semi-trailers fitted with light-alloy bodies.
NEW £650,000 Bit DEPOT
A NEW repair depot and garage is to be built by British Railways at Doncaster at a cost of £650,000. Situated at Ilexthorpe sidings, it will replace the existing premises at Marshgate. The number of vehicles based on this depot has grown from 25 to 160 in the past 20 ;ears.