Fewer Casualties in Accidents
19th February 1954
Page 38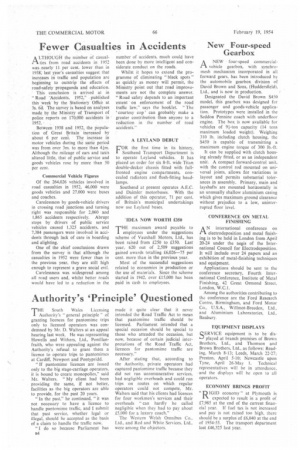 Page 38, 19th February 1954 —
Fewer Casualties in Accidents
Close
A LTHOUGH the number of casual
ties from road accidents in 1952 was nearly 11 per cent, lower than in 193g, last year's casualties suggest that increases in traffic and population are beginning to outstrip the effects of road-safety propaganda and education.
This conclusion is arrived at in " Road -Accidents, 1952," published this week by the Stationery Office at 3s. 6a. The survey is based on analyses made by the Ministry of Transport of police reports on 170,000 accidents in 1952.
Between 1938 and 1952, the population of Great Britain increased by about 6 per cent The increase in motor vehicles during the same period was from over 3m. to more than 4fm. Although the mileage of cars and taxis altered little, that of public service and goods vehicles rose by more than 50 per cent.
Commercial Vehicle Figures
Of the 264,026 vehicles involved in road casualties in 1952, 46,000 were goods vehicles and 27,000 were buses and coaches.
Carelessness by goods-vehicle drivers in crossing road junctions and turning right was responsible for 2,060 and L865 accidents respectively. Abrupt stops by drivers of public service vehicles caused 1.325 accidents, and 7,384 passengers were involved in accidents through lack of care in boarding and alighting.
One of the chief conclusions drawn from the survey is that although the casualties in 1952 were fewer than in the previous year. they are still high enough to represent a grave social evil. Carelessness was widespread among all road users and. whilst better roads would have led to a reduction in the number of accidents, much could have been done by more intelligent and considerate conduct on the roads.
Whilst it hopes to extend the programme of eliminating "black spots" as quickly as money will permit, the Ministry point out that road improvements are not the complete answer. "Road safety depends to an important extent • on enforcement of the road traffic law," says the booklet. " The courtesy cop' can probably make a greater contribution than anyone, to a reduction in the number of road accident s."
A LEYLAND DEBUT
FOR the first time in its history, Southend Transport Department is to operate Leyland vehicles. It has placed an order for six 8-ft. wide Titan double-decker chassis fitted with fullfronted engine compartments, concealed radiators and flush-fitting headlamps.
Southend at present operates A.E.C. and Daimler motorbuses. With the addition of this operator, 71 per cent. of Britain's municipal undertakings now use Leyland buses.
"IDEA NOW WORTH £350
THE maximum award payable to 1 employees under the suggestions scheme of Vauxhall Motors, Ltd., has been raised from £250 to £350. Last year, 620 out of 2,509 suggestions gained awards totalling £6,026-75 per cent. more than in the previous year.
Most of the successful suggestions related to economics in production or the use of materials. Since the scheme started in 1942, over £15.000 has been paid in cash to employees.