S.M.M.T. Complain of Taxation T HE Society of Motor Manufacturers and
19th February 1954
Page 37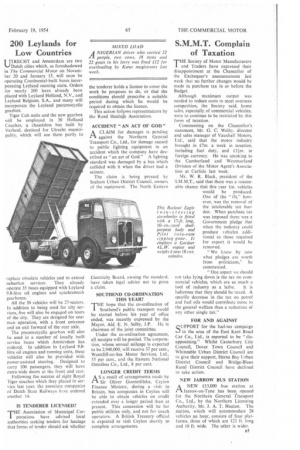 Page 37, 19th February 1954 —
S.M.M.T. Complain of Taxation T HE Society of Motor Manufacturers and
Close
Traders have expressed their disappointment at the Chancellor of the Exchequer's announcement last week that no further changes would be made in purchase tax in or before the Budget.
Although maximum output was needed to reduce costs to meet overseas competition, the Society said, home sales, especially, of commercial vehicles, were to continue to be restricted by this form of taxation.
Commenting on the Chancellor's statement, Mr. G. C. Welby, director and sales manager of Vauxhall Motors, Ltd., said that the motor industry brought in £7m. a week in taxation, including fuel duty, and £31m. in foreign currency. He was speaking to the Cumberland and Westmorland Division of the Motor Agent's Association at Carlisle last week.
Mr. W. R. Black, president of the S.M.M.T., said that there was a reasonable chance that this year Irn. vehicles would be produced. One of the "ifs," however, was the remosal of the intolerable tax burden. When purchase tax was imposed there was a Government pledge that when the industry could produce vehicles additional to those required for export it would be removed.
"We know by now what pledges arc worth from politicians," he commented.
"One aspect we should not take lying down is the tax on commercial vehicles, which are as much a tool of industry as a lathe. It is ludicrous that they should he taxed. A specific decrease in the tax on petrol and fuel oils would contribute more to the general welfare than a reduction of any other single tax."
FOR AND AGAINST
SUPPORT for the fuel-tax campaign in the area of the East Kent Road Car Co., Ltd., is reported to be "disappointing." Whilst Canterbury City Council, Dover Town Council and Whitstable Urban District Council are to give their support, Herne Bay Urban District Council and Bridge-Blean Rural District Council have declined to take action.
NEW JARROW BUS STATION ANEW E13,000 bus station at NEW has been opened for the Northern General Transport Co., Ltd., by the Northern Licensing Authority, Mr. J. A. T. Hanlon. The station, which will accommodate 28 vehicles an hour, consists of four platforms, three of which are 123 ft, long and 10 ft. wide. The other is wider.