200 Leylands for Low Countries
19th February 1954
Page 37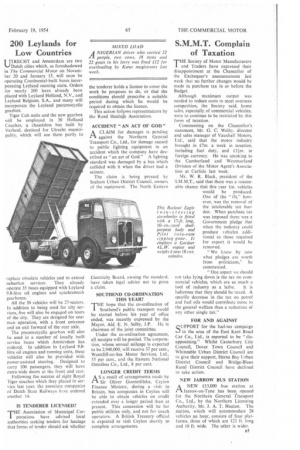 Page 37, 19th February 1954 —
200 Leylands for Low Countries
Close
Uj 1TRECHT and Amsterdam are two %-/Dutch cities which, as foreshadowed in The Commercial Motor on November 20 and January 15, will soon be operating Continental-built buses incorporating Leyland running units. Orders for nearly 200 have already been placed with Leyland Holland, N.V., and Leyland Belgium, S.A., and many will incorporate the Leyland pneumocyclic gearbox.
Tiger Cub units and the new gearbox will be employed in 30 Holland Coaches, a chassisless bus built by Verheul, destined for Utrecht municipality, which will usc them partly to
replace obsolete vehicles and to extend suburban services. They already operate 35 buses equipped with Leyland 9.8-litre oil engines and synchromesh gearboxes.
All the 30 vehicles will be 27-seaters. In 'addition to being used for city services, five will also be engaged on tours of the city. They are designed for oneman operation, with a front entrance and an exit forward of the rear axle.
The pneumocyclic gearbox will also be used in a number of locally built service buses which Amsterdam has ordered. In addition to Leyland 9.8litre oil engines and running units, these vehicles will also be provided with power-assisted steering. Designed to carry 100 passengers. they will have extra-wide doors at the front and rear.
Following the success of eight Royal Tiger coaches which they placed in service last year, the associate companies of Dutch State Railways hive ordered ...inother 14.
IS TENDERER LICENSED?
THEAssociation of Municipal Corporations have advised local authorities seeking tenders for haulage that forms of tender should ask whether the tenderer holds a licence to cover the work he proposes to do, or that the conditions should prescribe a suitable period during which he would be required to obtain the licence.
This action follows representations by the Road Haulage Association.
ACCIDENT "AN ACT OF GOD" A CLAIM for damages is pending against the Northern General Transport Co., Ltd., for damage caused to public lighting equipment in an accident which the company have described as " an act of God." A lighting standard was damaged by a bus which collided with it when the driver had a seizure.
The claim is being pressed by Seaham Urban District Council. owners of the equipment. The North Eastern Electricity Board, owning the standard, have taken legal advice not to press a claim.
SOUTHEND CO-ORDINATION THIS YEAR?
rP-IE hope that the co-ordination of Southend's public transport would be started before his year of office ended, was recently expressed by the Mayor, Aid. E. N. Selby, J.P. He is chairman of the joint committee.
Under the co-ordination agreement, all receipts will be pooled. The corporation, whose annual mileage is expected to be 2,940,000, will receive 37 per cent., Westcliff-on-Sea Motor Services, Ltd., 55 per cent., and the Eastern National Omnibus Co., Ltd., 8 per cent, LONGER CREDIT TERMS
AS a result of arrangements made by Sir Oliver Goonctilleke, Ceylon Finance Minister, during a visit to Britain, bus companies in Ceylon will be able to obtain _ vehicles on credit extended over a longer period than at present. This concession will be for public utilities only, and not for coach operators. A British Treasury official is expected to visit Ceylon shortly to complete arrangements.