Preference for Contract Holders
19th February 1954
Page 36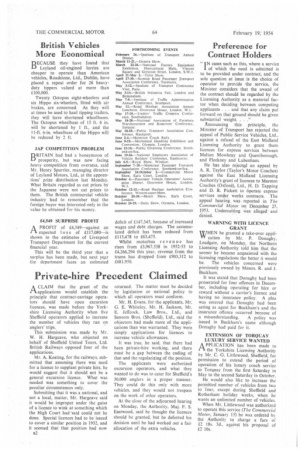 Page 36, 19th February 1954 —
Preference for Contract Holders
Close
" TN cases such as this, where a service
I of which the need is admitted is to be provided under contract, and the sole question at issue is the choice of operator to provide the service, the Minister considers that the award of the contract should be regarded by the Licensing Authority as a material factor when deciding between competing applicants . . . and that any claim put forward on that ground should be given substantial weight. . ."
Announcing this principle, the Minister of Transport has rejected the appeal of Public Service Vehicles, Ltd., against a refusal of the East Midland Licensing Authority to grant them licences for express services between Melton Mowbray and Queniborough, and Fleckney and Lubenham.
He has also rejeetsd an appeal by A. R. Taylor (Taylor's Motor Coaches) against the East Midland Licensing Authority's grant of licences to Marston Coaches (Oxford), Ltd., D. Tapping and D. R. Pickett to 6perate express services under works contracts. The appeal hearing was • reported in The Commercial Motor on December 25, 1953. Undercutting was alleged and denied.
WARNING WITH LICENCE GRANT
WHEN he granted a take-over appli/I cation by Mr. P. Donaghy, Leadgate, on Monday, the Northern Licensing Authority told him that the sooner he became acquainted with the licensing regulations the better it would be. The vehicles concerned were previously owned by Messrs. R. and J. Buckham.
It was stated that Donaghy had been prosecuted for four offences in December, including operating for hire or reward without a carrier's licence and having no insurance policy. A plea was entered that Donaghy had been acting as agent for Buckham's and the insurance offence occurred because of a misunderstanding. A policy was issued in Buckham's name although Donaghy had paid for it.
EXTENSION OF TORQUAY LUXURY SERVICE WANTED
A PPLICATION has been made to 2-1, the Yorkshire Licensing Authority by Mr. C. G. Littlewood, Sheffield, for permission to extend the period of operation of his luxury coach service to Torquay from the first Saturday in May to the second Saturday in October.
He would also like to increase the permitted number of vehicles from two to four, except during Sheffield and Rotherham holiday weeks, when he wants an unlimited number of vehicles.
When Mr. Littlewood was authorized to operate this service (The Commercial Motor, January 15) he was ordered by the Authority to charge a fare of £2 18s. 3d., against his proposal of £2 10s.