Incentives to Save £100,000 a Year
19th February 1954
Page 35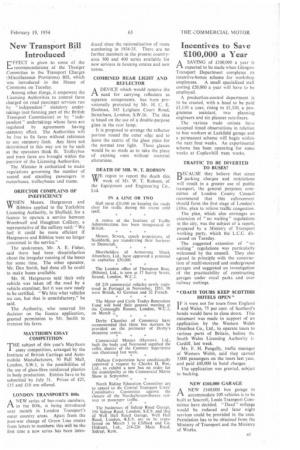 Page 35, 19th February 1954 —
Incentives to Save £100,000 a Year
Close
eTh•
A SAVING of £100,000 a year is expected to be made when Glasgow Transport Department completes its incentive-bonus scheme for workshop
employees. A small specialized staff costing £20,000 a year will have to be employed.
A production-control department is to be created, with a head to be paid £1,110 a year, rising to £1,310, a programme assistant, two planning engineers and six planner rate-fixers.
The various trade unions have accepted timed observations in relation to bus workers at Larkfield garage and a permanent scheme will begin within the next four weeks. An experimental scheme has been operating for some weeks at Copfawhill tram works, TRAFFIC TO BE DIVERTED TO BUSES?
DECAUSE they believe that street ID parking charges and restrictions will result in a greater use of public transport, the general purposes committee of London County Council recommend that this enforcement should form the first stage of London's £10m. plan to relieve traffic congestion.
The plan, which also envisages an extension of "no waiting" regulations in the city, was the subject of a report, prepared by a Ministry of Transport working party, which the L.C.C. discussed on Tuesday.
The suggested extension of "no waiting" regulations was particularly welcomed by the council. They also agreed in principle with the construction of multi-storeyed and underground garages and suggested an investigation of the practicability of constructing garages under royal parks and over railway cuttings.
"COACH TOURS KEEP SCOTTISH HOTELS OPEN"
IF it were not for tours from England 1 and Wales, 75 per cent. of Scotland's hotels would have to close down. This statement was made in support of an application by the Western Welsh Omnibus Co., Ltd., to operate tours to various parts of Britain, before the South Wales Licensing Authority in Cardiff, last week.
Mr. F. FL Pengelly, traffic manager of Western Welsh, said they carried 3,000 passengers on the tours last year, and paid /40,000 in hotel charges.
The application was granted, subject to backing.
NEW £160,000 GARAGE
ANEW £160,000 bus garage to accommodate 100 vehicles is to be built at Seacroft, Leeds Transport Committee have decided. " Dead" mileage would be reduced and later night setv ices could be provided in the area. Permission has to be obtained from the Ministry of Transport and the Ministry of Works.