Men in the News
19th February 1954
Page 34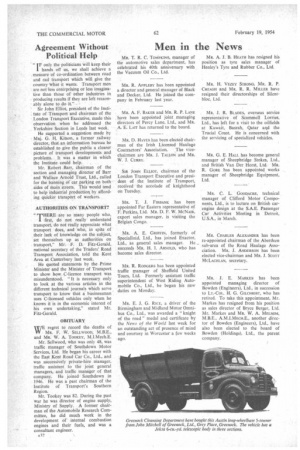 Page 34, 19th February 1954 —
Men in the News
Close
MR. T. R. C. TOMPKINS, manager of the automotive sales department, has celebrated his 40th anniversary with the Vacuum Oil Co., Ltd.
MR. R. APPLEBY has been appointed a director and general manager of Black and Decker, Ltd. He joined the company in February last year.
MR. A. F. BAKER and M. R. P. LANE have been appointed joint managing directors of Percy Lane. Ltd., and MR. A. E. Larr has returned to the board.
MR. D. HAYES has been elected chairman of the Irish Licensed Haulage Contractors' Association. The vicechairmen are MR. J. TALLAN and MR. W. J. CURRY.
Slit JOHN ELLIOT, chairman of the London Transport Executive and president of the Institute of Transport. received • the accolade of knighthood on Tuesday.
MR. T. I. FIRBANK has been appointed Far Eastern representative of F. Perkins, Ltd. MR. D. F. W. Mcblant, export sales manager, is visiting the Belgian Congo.
MR. A. E. GRIFFIN. formerly of Specialloid, Ltd., has joined Exactor, Ltd., as general sales manager. He _ Succeeds MR. H. I. ARNOLD, who has become sales director.
MR. R. RODGERS has been appointed traffic manager of Sheffield United Tours, Ltd. Formerly assistant traffic superintendent of West Riding Automobile Co., Ltd., he began his new duties on Monday.
Ma. E. S. G. Ricr, a driver of the Birmingham and Midland Motor Omnibus Co., Ltd., was awarded a "knight of the road" medal and certificate by the News of the World last week for an outstanding act of presence of mind and courtesy in Worcester a few weeks ago. MR. A. J. B. HEATH has resigned his position as tyre sales manager of Henley's Tyre and Rubber Co., Ltd.
MR. H. VEZEY STRONG, MR. R. P. CREAM and MR. R. R. MILLER have resigned their directorships of Silentbloc, Ltd.
• MR. J. R. BLADES, overseas service representative of Scammell Lorries, Ltd., has left for a visit to the oilfields at Kuwait, Basrah, Qatar and the Trucial Coast. He is concerned with the servicing of specialized vehicles.
MR. G. E. HALL has become general manager of Sheepbridge Stokes, Ltd., and British Van Der Horst, Ltd. MR. R. GORE has been appointed works manager of Sheepbridge Equipment, Ltd.
MR. C. L. GOODACRE, technical manager of Clifford Motor Components, Ltd., is to lecture on British carengine design at the S.A.E. Passenger Car Activities Meeting in Detroit, U.S.A., in March.
MR. CHARLES ALEXANDER has been re-appointed chairman of the Aberdeen sub-area of the Road Haulage Association. MR. S. ANDERSON has been elected vice-chairman and MR. J. Sun r MCLACHLAN, secretary.
MR. J. E. MARKES has been appointed managing director of Bowden (Engineers), Ltd., in succession to LT.-Cot. H. G. GILCHRIST, who has retired. To take this appointment, Mr. Markes has resigned from his position as sales director of Bryce Berger, Ltd. Mr. Markes and Ma. W. A, MELSOM, M.B.E.. A.M.I.MEGLE., another director of Bowden (Engineers), Ltd., have also been elected to the board of Bowden (Holdings), Ltd., the parent company.
Tags
People
:
A. F. BAKER
,
R. C. TOMPKINS
,
J. E. MARKES
,
Percy Lane
,
S. ANDERSON
,
R. GORE
,
D. HAYES
,
R. RODGERS
,
J. Sun
,
S. G. Ricr
,
R. R. MILLER
,
F. W. Mcblant
,
J. B. HEATH
,
H. G. GILCHRIST
,
H. I. ARNOLD
,
T. I. FIRBANK
,
R. P. CREAM
,
CHARLES ALEXANDER
,
J. TALLAN
,
JOHN ELLIOT
,
A. E. GRIFFIN
,
R. APPLEBY
,
C. L. GOODACRE
,
A. E. Larr
,
W. J. CURRY
,
J. R. BLADES