Agreement Without Political Help
19th February 1954
Page 34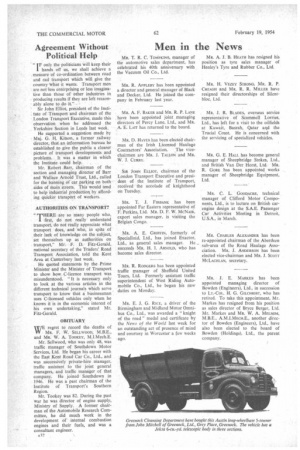 Page 34, 19th February 1954 —
Agreement Without Political Help
Close
"
IF only the politicians will keep their only off us, we shall achieve a measure of co-ordination between road and rail transport which will give the country tvhat it wants. Transport men are not less enterprising or less imaginative than those of other industries in producing results if they are left reasonably alone to do it." •
Sir John Elliot, president of the Institute of Transport and chairman of the London Transport Executive, made this observation when he addressed the Yorkshire Section in Leeds last week.
He supported a suggestion made by Maj. G. H. Kitson, a former railway director, that an information ,bureau be established to give the public a clearer picture of transport developments and problems. It was a matter in which the Institute could help.
Mr. Robert Barr, chairman of the section and managing director of Barr and Wallace Arnold Trust, Ltd., called for the banning of car Parking on both sides of main streets. This would tend to help industrial production by affording quicker transport of workers.
AUTHORITIES ON TRANSPORT?
" 'THERE are so many people who, I first, do not really understand transport, do not really appreciate what transport does, and who, in spite of their lack of knowledge on the subject, set themselves up as authorities on transport," Mr. F. D. Fitz-Gerald, national secretary of the Traders' Road Transport Association, told the Kent Area at Canterbury last week.
He quoted statements by the Prime Minister and the Minister of Transport to show how C-licence transport was misunderstood, "It is necessary only to look at the various articles in the different technical journals which serve transport to know that a businessman uses C-licensed vehicles only when he knows it is in the economic interest of his own undertaking," stated Mr. Fitz-Gerald.
OBITUARY
WE regret to record the deaths of Ma. F. W. SELLWOOD, M.B.E., and MR. W. A. TOOKEY, M.I.Mech.E.
Mr. Sellwood, who was only 48, was traffic manager of Southdown Motor Services, Ltd. He began his career with the East Kent Road Car Co., Ltd., and was successively private-hire manager. traffic assistant to the joint general managers, and traffic manager of that company. He joined Southdown in 1946. He was a past chairman of the Institute of Transport's Southern Region.
Mr. Tookey was 82. During the past war he was director of engine supply, Ministry of Supply. A former chairman of the Automobile Research Committee, he did much work in the development of internal combustion engines and their fuels, and was a consultant engineer.