Two Haulage Companies Formed: 18 More Buyers of Units
19th February 1954
Page 32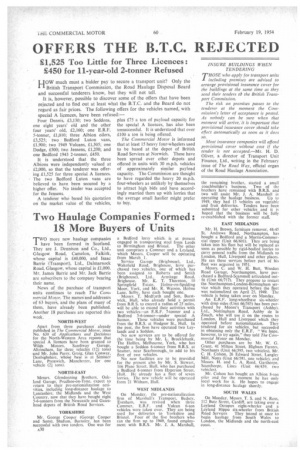 Page 32, 19th February 1954 —
Two Haulage Companies Formed: 18 More Buyers of Units
Close
TWO more new haulage companies have been formed in Scotland. They are I. Dennison and Co., Ltd., Glasgow Road, Camelon, Falkirk, whose capital is £40,000, and Isaac Barrie (Transport), Ltd" Dalmarnock Road, Glasgow, whose capital is £1,000. Mr. James Barrie and Mr. Jack Barrie are subscribers to the company bearing their name. News of the purchase of transport units continues to reach The Commercial Motor. The names and addresses of 63 buyer's, and the plans of many of them, have already been published. Another 18 purchases are reported this week.
NORTH-WEST
Apart from three purchases already published in The Commercial Motor, issue No. 630 of Applications and Decisions for the North-Western Area repopts that special A licences have been granted to Wilds Motors, Sandiway Garage, Altrineharn, for three vehicles (124 tons) and Mr. John Parry, Graig, Glan Conway, Denbighshire, whose base is at Simister Lane, Prestwich, Manchester, for one vehicle (21 tons).
NORTH-EAST
Messrs. Glendenning Brothers. Oakland Garage, Prudhoe-on-Tyne. expect to return to their pre-nationalization activities. including long-distance haulage to Lancashire, the Midlands and the West Country, now that they have bought eight 5-6-tonners from the Newcastle and Gateshead depots of British Road Services.
YORKSHIRE
Mr. George Cooper (George Cooper and Sons), Shafton. Barnsley, has been successful with two tenders. One was for
a Bedford lorry which is at present engaged in transporting steel from Leeds to Birmingham and Bristol. The other unit comprises a Commer and a Leyland, which Messrs. Cooper will be operating from March 1.
Service Garage (Brighouse), Ltd., Wakefield Road, Brighouse. have purchased two ,vehicles, one of which has been assigned to Roberts and Smith (Brighouse), Ltd.. Armitage Road, Brighouse. Mr. K. T. Thornton, to Springfield Estate. HoIme-on-Spalding Moor, York, and Mr. R. Watson, Holme Lane, Selby, have each bought one.
Messrs, T. Medforth and Son, Burstwick. Hull, who already hold a permit from B.R.S. to exceed a radius of 25 miles, will be able to extend their activities with two vehicles---an E.R.F. 7-totiner and a Bedford 5-6-tonner—under special A
licence. These vehicles were purchased from the B.R.S. at Hodgsor St., Hull. In the past, the firm have operated two Leylands and a Seddon.
No new services are to be offered for the time being by Mr. L. Brocklebank, The Hollies. Melbourne, York, who has bought a Seddon 6-tonner from B.R.S. at Smiler, near Scarborough, to add to his fleet of two vehicles.
No new facilities are to be provided for the present also by Mr. S. Stewart, 106 Plane Street, Hull, who has purchased a Bedford 6-tonner from Hyperion Street. Hull. He already has a fleet of seven lorries. The new vehicle will be operated from 21 Witham, Hull,
WEST MIDLANDS On Monday, the pre-nationalization firm of Marshall's Transport, Badsey, Evesham, was revived when three Commer. E.R.F. and Vulcan 6-ton vehicles were taken over. They are being used for deliveries to Yorkshire and Bristol. Four of the five brothers who ran the firm up to 1949, found employment with B.R.S. Mr. J. A. Marshall, the remaining brother, started a small coachbuilder's business. Two of the brothers have remained with B.R.S. and two will assist Mr. J. A. Marshall in operating the haulage business. Up to 1949, they had 13 vehicles on vegetable and fruit deliveries. Tenders have been submitted for other vehicles and it is hoped that the business will be fully re-established with the former staff.
EAST MIDLANDS Mr. H. Brown, furniture remover, 44-45 St. Andrews Road, Northampton, has bought a Bedford and a Morris-Commercial tipper (Unit 661601). They are being taken into his fleet but will be replaced as soon as possible by rigid-bodied lorries to carry general traffic from the Midlands to London, Hull, Liverpobl and other places. He ran these services before part of his fleet was acquired in 1951.
Messrs. C. and W. IL Butt, Weedon Road Garage. Northampton, have purchased a Bedford-Scammell articulated outfit (Unit 66;717). They propose to restart the. Northampton-London-Birmingham service which they operated before the fleet was nationalized on April 25, 1949. The vehicle is being taken over on Monday. An E.R.F. long-wheelbase six-wheeler with drop sides (Unit 66(585) has been purchased by Moore's Transport (Ashby), Ltd., Nottingham Road, Ashby de la Zouch, who will use it on the routes to London. Hull and Liverpool which they operated before nationalization. They tendered for six vehicles, but succeeded in obtaining only the E.R.F. "We hope, however, to try again." they told The Commercial Motor on Monday. Other purchases are by Mr. W. G. Grant, 41 Milton Street, Higham Ferrers, Northants (Unit 66;595, two vehicles), Mr. C. H. Colson, 26 Edward Street, Langley Mill, Notts (Unit 66/581. one vehicle), and Messrs. H. and L. A. Reed. Garthorpe. Scunthorpe, Lines (Unit 66/459, two vehicles).
Mr. Colson has bought an Albion 8-ton oiler and for the moment he has only local work for it. He hopes to engage in long-distance haulage shortly.
SOUTH WALES
On Monday, Messrs. T. S. and N. Ross. 112 Bute Street, Cardiff, are taking over a Leyland Octopus eight-wheeler and a Leyland Hippo six-wheeler from British Road Services They intend at once to begin haulage from South Wales to London, the Midlands and the north-east coast.
Tags
People
:
Jack Barrie
,
James Barrie
,
Burstwick
,
Ashby de la Zouch
,
J. A. Marshall
,
H. Brown
,
H. Colson
,
R. Watson
,
L. Brocklebank
,
John Parry
,
K. T. Thornton
Locations
:
Manchester
,
Yorkshire
,
York
,
Cardiff
,
Leeds
,
Melbourne
,
London
,
Birmingham
,
Liverpool
,
Bristol
,
Gateshead
,
Midlands
,
South Wales
,
Newcastle