One Hears
19th February 1954
Page 31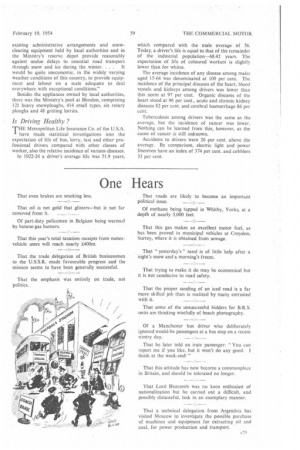 Page 31, 19th February 1954 —
One Hears
Close
That even brakes are smoking less.
That oil is not gold that glisters—but is not far removed from it.
Of part-duty policemen in Belgium being warmed by butane-gas burners.
That this year's total taxation receipts from motorvehicle users will reach nearly £400m.
That the trade delegation of British businessmen to the U.S.S.R. made favourable progress and the mission seems to have been generally successful.
That the emphasis was entirely on trade, not politics. That roads are likely to become an important political issue. —0 — Of methane being tapped in Whitby, Yorks, at a depth of nearly 5,000 feet.
That this gas makes an excellent motor fuel, as has been proved in municipal Vehicles at Croydon, Surrey, where it is obtained from sewage.
That " yesterday's " sand is of little help after a night's snow and a morning's freeze.
That trying to make it do may be economical but it is not conducive to road safety.
That the proper sanding of an iced road is a far more skilled job than is realized by many entrusted with it.
That some of the unsuccessful bidders for B.R.S. units are thinking wistfully of beach photography.
Of a Manchester bus driver who deliberately ignored would-be passengers at a bus stop on a recent wintry day. _ That he later told an irate passenger: "You can report me if you like, but it won't do any good. finish at the week-end! "
That this attitude has now become a commonplace in Britain, and should be tolerated no longer.
That Lord Hurcomb was no keen enthusiast of nationalization hut he carried out a difficult, and possibly distasteful, task in an exemplary manner.
That a technical delegation from Argentina has visited Moscow to investigate the possible purchase of machines and equipment for extracting .oil and coal, for power production and transport.