Railway Blow to Trade and Industry
19th February 1954
Page 30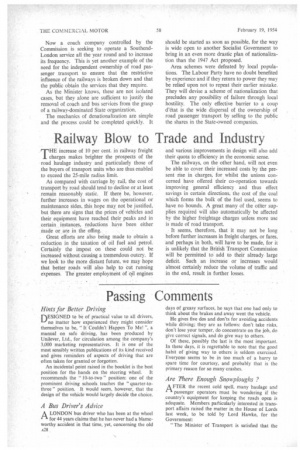 Page 30, 19th February 1954 —
Railway Blow to Trade and Industry
Close
THE increase of 10 per cent. in railway freight charges makes brighter the prospects of the road haulage industry and particularly those of the buyers of transport units who are thus enabled to exceed the 25-mile radius limit.
As compared with carriage by rail, the cost of transport by road should tend to decline or at least remain reasonably static. If there be, however, further increases in wages on the operational or maintenance sides, this hope may not be justified. but there are signs that the prices of vehicles and their equipment have reached their peaks and in certain instances, reductions have been either made or are in the offing.• Great efforts are also being made to obtain a reduction in the taxation of oil fuel and petrol. Certainly the impost on these could not be increased without causing a tremendous outcry. If we look to the more distant future, we may hope that better roads will also help to cut running expenses. The greater employment of oil engines and various improvements in design will also add their quota to efficiency in the economic sense.
The railways, on the other hand, will not even be able to cover their increased costs by the present rise in charges, for whilst the unions concerned have offered their co-operation towards improving general efficiency and thus effect savings in certain directions, the cost of the coal which forms the bulk of the fuel used, seems to have no bounds. A great many of the other supplies required will also automatically be affected by the higher freightage charges unless more use is made of road transport.
It seems, therefore, that it may not be lone before further increases in freight charges, or fares, and perhaps in both, will have to be made, for it is unlikely that the British Transport Commission will be permitted to add to their already large deficit. Such an increase or increases would almost certainly reduce the volume of traffic and in the end, result in further losses.