AMMUNITION IN FINAL REPORT The allegation is scarcely confirmed from
19th August 1966
Page 68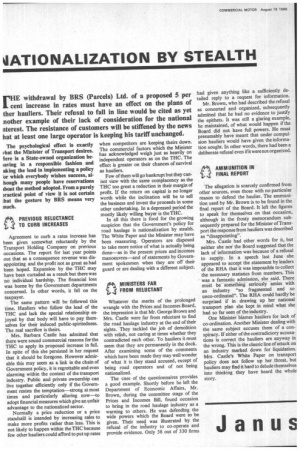 Page 68, 19th August 1966 —
AMMUNITION IN FINAL REPORT The allegation is scarcely confirmed from
Close
Keywords :
other sources, even those with no particular reason to defend the haulier. The ammunition used by Mr. Brown is to be found in the final report of the Board. It left the figures to speak for themselves on that occasion, although in the frosty memorandum subsequently prepared for the Minister of Transport the response from hauliers was described as "disappointing".
Mrs. Castle had other words for it, but neither she nor the Board suggested that the lack of information was because of a refusal to supply. In a speech last June she appeared to accept the statement by leaders of the RHA that it was impossible to collect the necessary statistics from members. This was a fantastic admission, she said. There must be something seriously amiss with an industry "so fragmented and so unco-ordinated". The RHA could hardly be surprised if in drawing up her national transport plan she kept in mind what she had so far seen of the industry.
One Minister blames hauliers for lack of co-ordination. Another Minister dealing with the same subject accuses them of a conspiracy. If either of the contradictory accusations is correct the hauliers are anyway in the wrong. This is the classic line of attack on an industry marked down for liquidation. Mrs. Castle's White Paper on transport policy does not follow up her threat, but hauliers may find it hard to delude themselves into thinking they have heard the whole story.