lelping drivers solve parking problems
19th August 1966
Page 66
Page 67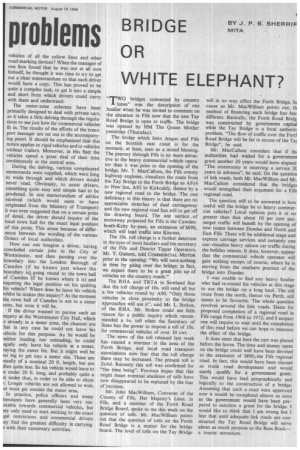 Page 66, 19th August 1966 —
lelping drivers solve parking problems
Close
PARKING meters are here to stay. A great extension of their area is planned for London and a zone some 10 miles across will soon be completely controlled by the meter system. The growth in size of the controlled area not only means more streets and premises being affected by the restrictions, but it also makes the area much more difficult to get out of. To take an obvious example, when the 10-mile zone
comes into operation and a driver needs to take his fhour meal break, it may mean up to five miles of travel in congested streets before he can take that break—unless he can stop in the zone. Can he do this?
This is not the only problem for the commercial vehicle driver when he wants to stop his vehicle in a meter zone. What is the legal position if he wants to make a telephone call? What is the application to commercial vehicles of all the yellow lines and other road-marking devices? When the manager of one firm found that he was not at all sure himself, he thought it was time to try to get out a clear memorandum so that each driver would have a copy. This has proved to be quite a complex task, to get it into a simple and short form which drivers could carry with them and understand.
The meter-zone schemes have been primarily designed to deal with private cars, so it takes a little delving through the regulations to see just how far commercial vehicles fit in. The results of the efforts of the transport manager are set out in the accompanying panel. It should be emphasized that this notice applies to rigid vehicles and to vehicles without trailers. Moreover, in this fleet the vehicles spend a great deal of their time continuously in the central area.
During the delving, various complicated memoranda were supplied, which were long to wade through and which drivers would never read. Obviously, to assist drivers, something quite easy and simple had to be produced. In one memorandum of advice received (which would seem to have originated from the Ministry of Transport) it was even suggested that on a certain point of detail, the driver should inquire of the local town hall for the exact legal position of this point. This arose because of differences between the wording of the various Orders of local authorities.
How can one imagine a driver, having concluded certain jobs in the City of Westminster, and then passing over the boundary into the London Borough of Camden (if he knows just where the boundary is), going round to the town hall of Camden (if he knows where it is) and inquiring the legal position on his quitting his vehicle? Where does he leave his vehicle whilst he makes this inquiry? At the moment the town hall of Camden is not in a meter zone, but soon it will be.
If the driver wanted to pursue such an inquiry at the Westminster City Hall, which Ls already, in a meter zone, the chances are :hat in any case he could not leave his iehicle for this purpose. As he would be -wither loading nor unloading, he could egally only leave his vehicle at a meter, )aying the meter fee. But it might well be oo big to get into a meter site. These are mutiny of a nominal 20 ft. length, but are iften quite less. So his vehicle would have to le under 20 ft. long, and probably quite a it under that, in order to be able to shunt 1. Longer vehicles are not allowed to wait, ut must get outside the meter area.
In practice, police officers and meter ttendants have generally been very reaDnable towards commercial vehicles, but ley only need to start sticking to the exact gal restrictions and commercial drivers lay find the greatest difficulty in carrying with their customary activities.