Basic Wages the Main Issue
19th August 1966
Page 57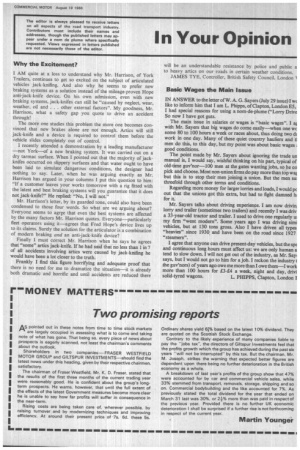 Page 57, 19th August 1966 —
Basic Wages the Main Issue
Close
IN ANSWER to the letter of W. A. G. Sayers (July 29 issue)! wc like to inform him that! am L. Phipps, of Clapton, London E5, I had special reasons for using a nom-de-plume ("Lorry Drive So now I have got guts.
The main issue in salaries or wages is "basic wages". I ak with Mr. Sayers that big wages do come easily—when one wc some 80 to 100 hours a week or races about, thus doing two ch work in one day. Many of these quiet country hauliers and ti men do this, to this day, but my point was about basic wages ; good conditions.
The point made by Mr. Sayers about ignoring the trade un manual is, I would say, wishful thinking on his part, typical of old-time guv'nor-100 men at the gates wanting jobs, so he co pick and choose. Most non-union firms do pay more than top wal but this is to stop their men joining a union. But the men su; threefold through other terms and conditions.
Regarding more money for larger lorries and loads, I would pc out that the unions got this extra, but had to fight damned h; for it Mr. Sayers talks about driving experience. I am now clriviu lorry and trailer (sometimes two trailers) and recently I was driv a 33-year-old tractor and trailer. I used to drive one regularly in my firm "went modern". Some years ago I was driving simi vehicles, but at 130 tons gross. Also I have driven all types "heavies" since 1930 and have been on the road since 1927 "steamers".
I agree that anyone can drive present-day vehicles, but the spt and continuous long hours must affect us: we are only human a tend to slow down. I will not get out of the industry, as Mr. Say' says, but! would not go to him for a job. I reckon the industry the guv'nors) of years ago owe me more than I owe them—I work more than 100 hours for L3-£4 a week, night and day, drivi solid-tyred wagons. L. PHIPPS, Clapton, London I