Grant for two in contract switch
19th August 1966
Page 35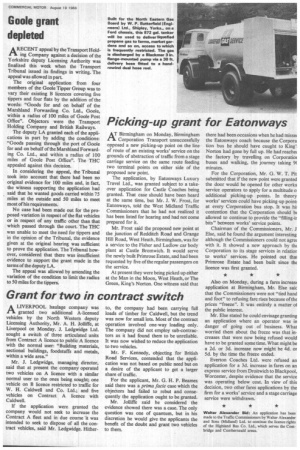 Page 35, 19th August 1966 —
Grant for two in contract switch
Close
ALIVERPOOL haulage company was granted two additional A-licensed vehicles by the North Western deputy Licensing Authority, Mr. A. H. Jolliffe, at Liverpool on Monday. J. Ledgwidge Ltd. sought a switch of three articulated units from Contract A licence to public A licence with the normal user: "Building materials, sectional buildings, foodstuffs and metals, within a wide area."
Mr. J. Ledgwidge, managing director, said that at present the company operated two vehicles on A licence with a similar normal user to the ones being sought; one vehicle on B licence restricted to traffic for W. H. Caldwell and Co. Ltd.; and five vehicles on Contract A licence with Caldwell.
If the application were granted the company would not seek to increase the Contract A fleet and in due course it was intended to seek to dispose of all the contract vehicles, said Mr. Ledgwidge. Hither to, the company had been carrying full loads of timber for Caldwell, but the trend was now for small lots. Most of the contract operation involved one-way loading only. The company did not employ sub-contractors as it had found them to be unreliable. It was now wished to reduce the application to two vehicles.
Mr. F. Kennedy, objecting for British Road Services, contended that the application was not based on public need but on a desire of the applicant to get a larger share of traffic.
For the applicant, Mr. G. H. P. Beames said there was a prima facie case which the objectors had failed to rebut and consequently the application ought to be granted.
Mr. Jolliffe said he considered the evidence showed there was a case. The only question was one of quantum, but in his discretion he would give the applicants the benefit of the doubt and grant two vehicles to them.