Parking unlit vehicles
19th August 1966
Page 31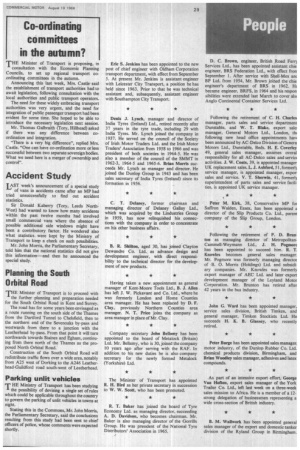 Page 31, 19th August 1966 —
Parking unlit vehicles
Close
THE Ministry of Transport has been studying
the possibility of devising a single set of rules which could be applicable throughout the country to govern the parking of unlit vehicles in towns at night.
Stating this in the Commons, Mr. John Morris, the Parliamentary Secretary, said the conclusions resulting from this study had been sent to chief officers of police, whose comments were expected shortly.
Eric S. Jenkins has been appointed to the new post of chief engineer with Oldham Corporation transport department, with effect from September 5. At present Mr. Jenkins is assistant engineer with Leicester City Transport, a position he has held since 1963. Prior to that he was technical assistant and, subsequently, assistant engineer with Southampton City Transport.
Denis J. Lynch. manager and director of India Tyres (Ireland) Ltd., retired recently after 37 years in the tyre trade, including 29 with India Tyres. Mr. Lynch joined the company in 1937. He served on the council of the Society of Irish Motor Traders Ltd. and the Irish Motor Traders' Association from 1958 to 1966 and was president of both societies in 1964-5. He was also a member of the council of the SMMT in 1962-3, 1964-5 and 1965-6. Brian Morris succeeds Mr. Lynch as manager and director. He joined the Dunlop Group in 1943 and has been sales secretary of India Tyres (Ireland) since its formation in 1956.
C. T. Delaney, former chairman and managing director of Delaney Gallay Ltd., which was acquired by the Lindustries Group in 1959, has now relinquished his connections with the company in order to concentrate on his other business affairs.
B. R. Shilton, aged 30, has joined Clayton Dewandre Co. Ltd. as advance design and development engineer, with direct responsibility to the technical director for the development of new products.
Having taken a new appointment as general manager of Kent-Moore Tools Ltd., B. J. Allen has left J. W. Pickavant and Co. Ltd., where he was formerly London and Home Counties area manager. He has been replaced by D. F. Clay, previously Northern Counties area manager. N. T. Price joins the company as area manager in place of Mr. Clay.
Company secretary John Bellamy has been appointed to the board of Metalock (Britain) Ltd. Mr. Bellamy, who is 30, joined the company 10 years ago after serving with the RAF. In addition to his new duties he is also company secretary for the newly formed Metalock (Yorkshire) Ltd.
The Minister of Transport has appointed R. H. Bird as her private secretary in succession to W. W. Scott, who has been promoted.
R. T. Baker has joined the board of Tyre Economy Ltd. as managing director, succeeding A. D. Davidson, who becomes chairman. Mr. Baker is also managing director of the Gorrills Group. He was president of the National Tyre Distributors' Association in 1965.
D. C. Brown, engineer. British Road Ferr3 Services Ltd., has been appointed assistant chie engineer, BRS Federation Ltd., with effect fron September 1. After service with Shell-Mex an BP Ltd. from 1954, Mr. Brown joined the chie engineer's department of BRS in 1962. HI became engineer, BRFS, in 1964 and his respon sibilities were extended last March to cover alst .Anglo Continental Container Services Ltd.
Following the retirement of C. H. Charles manager. parts sales and service department Dunstable, and W. T. Blake, export sale! manager, General Motors Ltd.. London, ttu following new head office appointments havi been announced by AC-Delco Division of Genera Motors Ltd., Dunstable, Beds. FL E. Coverley 49, general sales manager, assumes overal responsibility for all AC-Delco sales and servier activities. J. W. Coats, 39, is appointed manager UK replacement sales. L. J. Ashford, 51, formed} service manager, is appointed manager, expon sales and service. V. T. Sherwin, 41, former13 superintendent of parts sales and service facili ties, is appointed UK service manager.
Peter M. Kirk, 38, Conservative MP for Saffron Walden, Essex, has been appointed a director of the Slip Products Co. Ltd.. parent company of the Slip Group, London.
Following the retirement of P. D. Brunton as managing director of MetropolitanCammell-Weymann Ltd., J. H. Pogmore has been appointed to succeed him. R. T. Knowles becomes general sales manager. Mr. Pogmore was formerly managing director of -B. 0. Morris (Holdings) Ltd. and subsidiary companies. Mr. Knowles was formerly export manager of AEC Ltd. and later export development manager of the Leyland Motor Corporation. Mr. Brunton has retired after 42 years in the bus industry.
John G. Ward has been appointed manager, service sales division, British Timken, and general manager. Timken Stockists Ltd. He succeeds H. K. B. Glassey, who recently retired.
Peter Burge has been appointed sales manager. motor industry, of the Dunlop Rubber Co. Ltd. chemical products division, Birmingham, and Brian Woodley sales manager, adhesives and latex compounds.
As part of an intensive export effort, George Van Hoften, export sales manager of the York Trailer Co. Ltd., left last week on a three-week sales mission to Africa. He is a member of a 12 strong delegation of businessmen representing a wide cross-section of British industry.
B. M. Wallwork has been appointed general sales manager of the export and domestic tanker division of the Ryland Group in Birmingham.
Tags
People
:
Peter Burge
,
J. W. Coats
,
P. D. Brunton
,
Essex
,
W. W. Scott
,
R. H. Bird
,
Peter M. Kirk
,
B. R. Shilton
,
A. D. Davidson
,
R. T. Baker
,
Brian Woodley
,
D. C. Brown
,
John Bellamy
,
John G. Ward
,
F. Clay
,
N. T. Price
,
George Van Hoften
,
Denis J. Lynch
,
L. J. Ashford
,
J. H. Pogmore
,
C. H. Charles
,
John Morris
,
Brian Morris
,
Eric S. Jenkins
,
K. B. Glassey
,
V. T. Sherwin
,
B. M. Wallwork