Research on materials handling
19th August 1966
Page 28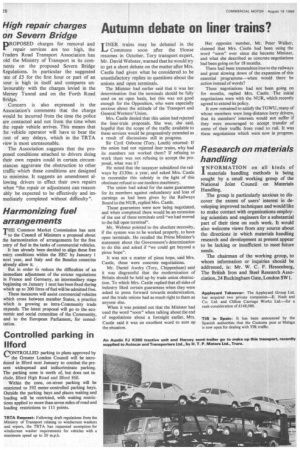 Page 28, 19th August 1966 —
Research on materials handling
Close
INF OR MATIO N on all kinds of materials handling methods is being sought by a small working group of the National Joint Council on Materials Handling.
The group is particularly anxious to discover the extent of users' interest in developing improved techniques and would like to make contact with organizations employing scientists and engineers for a substantial part of their time on such work. It would also welcome views from any source about the directions in which materials handling research and development at present appear to be lacking or insufficient to meet future needs.
The chairman of the working group, to whom information or inquiries should be addressed, is: Mr. W. C. F. Hessenberg, The British Iron and Steel Research Association, 24 Buckingham Gate, London SW!.
Appleyard Takeover: The Appleyard Group Ltd. has acquired two private companies—E. Nash and Co. Ltd. and Clifton Carriage Works Ltd.—for a cash consideration of £148,988.
TIR in Spain: It has been announced by the Spanish authorities that the Customs post at Malaga is now open for dealing with TIR traffic.