High repair charges on Severn Bridge
19th August 1966
Page 28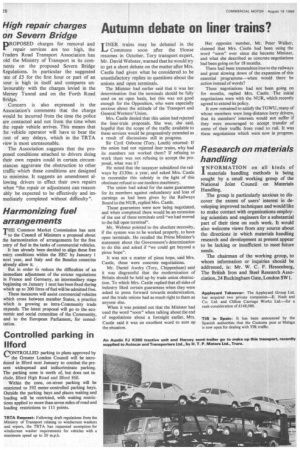 Page 28, 19th August 1966 —
High repair charges on Severn Bridge
Close
PROPOSED charges for removal and repair services are too high, the Craders Road Transport Association has old the Ministry of Transport in its cornnents on the proposed Severn Bridge Regulations. In particular the suggested -ate of .E5 for the first hour or part of an lour is high in itself and compares un'avourably with the charges levied in the Mersey Tunnel and on the Forth Road Bridge.
Concern is also expressed in the Association's comments that the charge would be incurred from the time the police are contacted and not from the time when the repair vehicle arrives. This means that :he vehicle operator will have to bear the ost of any delays, which in the TRTA view is most unreasonable.
The Association suggests that the proposed conditions attached to drivers doing their own repairs could in certain circumstances aggravate the obstruction to other traffic which these conditions are designed to minimise. It suggests an amendment allowing drivers to effect their own repairs when "the repair or adjustment can reasonably be expected to be effectively and immediately completed without difficulty".