Date fixed for new braking regulations
19th August 1966
Page 27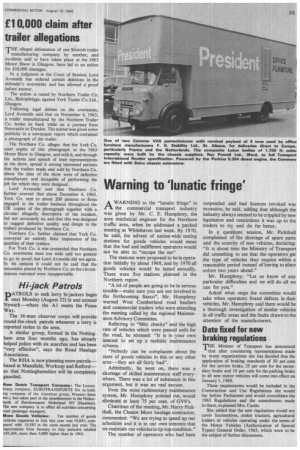 Page 27, 19th August 1966 —
Date fixed for new braking regulations
Close
THE Minister of Transport has announced
that after considering representations made by many organizations she has decided that the application of braking standards of 50 per cent for the service brake, 25 per cent for the secondary brake and 16 per cent for the parking brake to all new motor vehicles will come into effect on January 1, 1968.
These requirements would be included in the Construction and Use Regulations she would lay before Parliament and would consolidate the 1963 Regulations and the amendments made to them, explained Mrs. Castle.
She added that the new regulations would not cover locomotives, motor tractors, agricultural trailers or vehicles operating under the terms of the Motor Vehicles (Authorization of Special Types) General Order, 1963, which were to be the subject of further discussions.