P. and I. BOARD MAY LOOK AT PRODUCTIVITY
19th August 1966
Page 26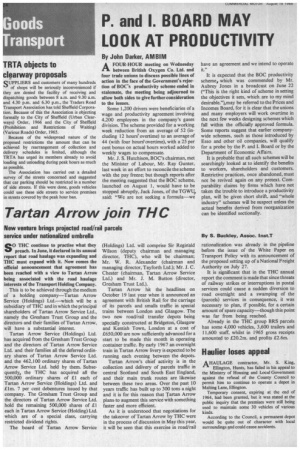 Page 26, 19th August 1966 —
P. and I. BOARD MAY LOOK AT PRODUCTIVITY
Close
By John Darker, AMBIM
AFOUR-HOUR meeting on Wednesday between British Oxygen Co. Ltd. and four trade unions to discuss possible lines of action in the face of the Government's rejection of BOC's productivity scheme ended in stalemate, the meeting being adjourned to allow both sides to give further consideration to the issues.
Some 1,200 drivers were beneficiaries of a wage and productivity agreement involving 4,200 employees in the company's gases division. The scheme provided for a working week reduction from an average of 52 (including 12 hours' overtime) to an average of 44 (with four hours' overtime), with a 25 per cent bonus on actual hours worked added to weekly wages to compensate.
Mr. J. S. Hutchison, BOC's chairman, met the Minister of Labour, Mr. Ray Gunter, last week in an effort to reconcile the scheme with the pay freeze; but though reports after the meeting suggested that the BOC scheme, launched on August 1, would have to be stopped abruptly, Jack Jones, of the TGWU, said: "We are not seeking a formula—we have an agreement and we intend to operate it."
It is expected that the BOC productivity scheme, which was commended by Mr. Aubrey Jones in a broadcast on June 22 ("This is the right kind of scheme in setting the objectives it sets, which are to my mind desirable."),may be referred to the Prices and Incomes Board, for it is clear that the unions and many employers will work overtime in the next few weeks designing schemes which fall within the officially approved formula. Some reports suggest that earlier companywide schemes, such as those introduced by Esso and other oil companies, will qualify for a probe by the P. and I. Board or by the Department of Economic Affairs.
It is probable that all such schemes will be searchingly looked at to identify the benefits to workers, shareholders and customers. Restrictive practices, once abandoned, must not be revived again on any pretext. Comparability claims by firms which have not taken the trouble to introduce a productivity plan, will be given short shrift, and "whole industry" schemes will be suspect unless the actual benefits derived from reorganization can be identified sectionally.