Improving the driver's lot
19th August 1966
Page 25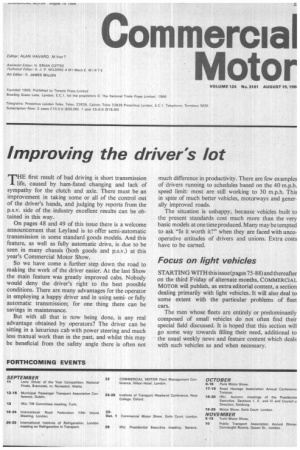 Page 25, 19th August 1966 —
Improving the driver's lot
Close
THE first result of bad driving is short transmission life, caused by ham-fisted changing and lack of sympathy for the clutch and axle. There must be an improvement in taking some or all of the control out of the driver's hands, and judging by reports from the p.s.v. side of the industry excellent results can be obtained in this way.
On pages 48 and 49 of this issue _there is a welcome announcement that Leyland is to offer semi-automatic transmission in some standard goods models. And this feature, as well as fully automatic drive, is due to be seen in many chassis (both goods and p.s.v.) at this year's Commercial Motor Show.
So we have come a further step down the road to making the work of the driver easier. At the last Show the main feature was greatly improved cabs. Nobody would deny the driver's right to the best possible conditions. There are many advantages for the operator in employing a happy driver and in using semior fully automatic transmission; for one thing there can be savings in maintenance.
But with all that is now being done, is any real advantage obtained by operators? The driver can be sitting in a luxurious cab with power steering and much less manual work than in the past, and whilst this may be beneficial from the safety angle there is often not much difference in productivity. There are few examples of drivers running to schedules based on the 40 m.p.h. speed limit: most are still working to 30 m.p.h. This in spite of much better vehicles, motorways and generally improved roads.
The situation is unhappy, because vehicles built to the present standatds cost much more than the very basic models at one time produced. Many may be tempted to ask "Is it worth it?" when they are faced with uncooperative attitudes of drivers and unions. Extra costs have to be earned.
Focus on light vehicles
STARTING WITH this issue (pages 75-88) and thereafter on the third Friday of alternate months, COMMERCIAL MOTOR will publish, as extra editorial content, a section dealing primarily with light vehicles. It will also deal to some extent with the particular problems of fleet cars.
The men whose fleets are entirely or predominantly composed of small vehicles do not often find their special field discussed. It is hoped that this section will go some way towards filling their need, additional to the usual weekly news and feature content which deals with such vehicles as and when necessary.