YARMOUTH TO OPPOSE APPLICATION
19th August 1938
Page 52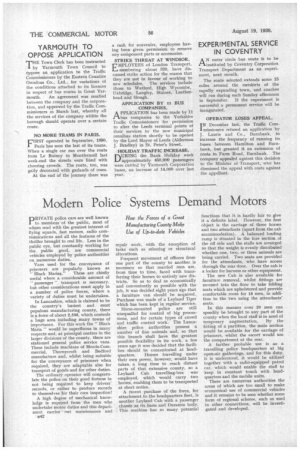 Page 52, 19th August 1938 —
YARMOUTH TO OPPOSE APPLICATION
Close
THE Town Clerk has been instructed I by Yarmouth Town Council to oppose an application to the Traffic Commissioners by the Eastern Counties Omnibus Co., Ltd., for variations of the conditions attached to its licences in respect of bus routes in Great Yarmouth. An agreement was reached between the company and the corporation, and approved by the Traffic Commissioners in March last, whereby all the services of the company within the borough should operate over a certain route.
NO MORE TRAMS IN PARIS. E`IRST operated in September, 1890, I Paris has seen the last of its trams. When a single car ran over the route from Le Raincy to Montferrneil last week-end the streets were lined with cheering crowds. The route, too, was gaily decorated with garlands of roses.
At the end of the journey there was a rush for souvenirs, employees having been given permission to remove any component parts or accessories.
STRIKE THREAT AT WINDSOR.
EMPLOYEES of London Transport, numbering about 320, have discussed strike action for the reason that they are not in favour of working to new schedules, The services include those to Watford, High Wycombe. Uxbridge, Langley, Staines, Leatherhead and Slough.
APPLICATION BY 11 BUS COMPANIES.
A PPLICATION has been made by .11 Citrus companies to the Yorkshire Traffic Commissioners for permission to alter the Leeds terminal points of their services to the new municipal omnibus station shortly to be opened by the Lord Mayor of Leeds (Alderman J. Bradley) in St. Peter's Street,
HOLIDAY TRAFFIC INCREASE.
DURING the Bank Holiday week approximately 450,000 passengers were carried by Yarmouth Corporation buses, an increase of 14,000 over last year.